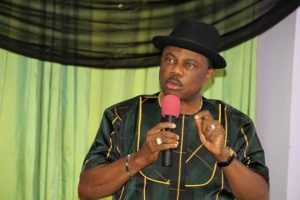 Anambra State Governor, Willie Obiano, has narrated how he checkmated the menace of herdsmen attacks and kidnapping with a combination of diplomacy, tact and surveillance.
The Governor who gave his speech during the launching of the Emeka Anyoaku Institute of Diplomacy and International Studies recently held at the Nnamdi Azikiwe University, Awka, on Wednesday said:
"Anambra State has never had cattle menace challenges, and it's not by fluke,"
"It is because of a concerted special arrangement that we have. I was like the guy that saw tomorrow, I set up a committee two and half years ago and brought the Igwes (traditional rulers), some of them are here, eight Igwes that normally have challenges with these cattle people.
"I constituted a committee, cattle menace committee, headed by the commissioner of police, with some traditional rulers and leaders of the Fulani committee in the state as members.
"So whenever they destroy farms, they pay and they have paid seven times in those two years and whenever our people kill their cows, like they do once in a while, they also pay. With that kind of arrangement, they were happy."
The Governor also said that negotiations and reconciliations were initiated to prevent attacks on Anambra people.
"To show you some of the things we did, during that period, Enugu people were attacked, they were to attack Umungbo, a village not very far geographically from Enugu.
"Again, from our helicopter surveillance which I use every now and then to check what is going around, by the way, I wake up all night so that all Ndi Anambra will sleep with their two eyes closed.
"So, when we did that surveillance, we saw that there was some gathering around that Umungbo, so we sent the menace committee to go and meet those people. Of course, they warned them that this state does not tolerate AK 47 herdsmen and that they did, that they understood. Those people complained that 15 years ago, Umungbo people killed 35 of their cows and two of their men and they will revenge.
"We went to Umungbo and the Igwe called some of the old people there because he is a new Igwe. They told him that 'Yes something like that happened and they also lost two people.' So, we brought them together, they sent a rep, our chief of menace committee who is the commissioner of police arranged that."
Obiano went to state how a settlement formula was agreed upon to quash the lingering issue.
"At the end of the day we paid N50,000 for each cow, that was a cow killed 15 years ago, and for the dead people, we paid N500,000 each for the two and they also paid same so it balanced out. They were very happy and because of this diplomacy, if you will, we averted a major bloodbath and we have continued doing those kinds of things on regular basis."
Speaking further, he said that "In January this year, four people were injured when herdsmen and farmers clashed in a farmland at Okoti-Odekpe community in Ogbaru local government area of the state.
Two months later, about 15 communities in Orumba South local government area raised an alarm that herdsmen were raping their wives and children".
Governor Obiano also explained how the problem of kidnapping was tackled. He revealed that he stays awake to monitor the security surveillance across the state.
"Kidnapping no longer happens anywhere in Anambra under my watch. By the way, if anybody is kidnapped anywhere and you inform me early, in 15 minutes, I will locate the coordinates of the victim.
"I will give you an example, a Reverend Father was kidnapped somewhere around the Ohanaeze president's place near Nsukka, so the Bishop called me and said, 'I know it didn't happen in your state, how do you help?'
"I said, 'do you have a phone number?' he said 'yes they have been calling, look at the number.' Mbanye n'ebe m na abanye we nyo ya (I went into my special place and viewed it (the number), in 15 minutes I identified the coordinates, then I advised the security in that area and we were able to release the priest successfully. We also did the same in Kogi where a Reverend Sister was kidnapped and we effected her release.
"So, our people are safe at any point in time and we do not joke with security here, so go ahead and enjoy the security, peace and tranquillity of Anambra State.
The governor used the opportunity to update the audience on the proposed airport at Umuleri, explaining that the state government was not contributing financially to the project but would provide land to be used as equity in the business. He said it was a private-public partnership deal between Emeka Anyaoku, a former Commonwealth Secretary-General, and China's Exim Bank.
"I want to specially thank Chief Emeka Anyaoku for what he has helped us do. Anambra State is the safest state in Nigeria and will be so in the next years under my watch," he said.
"I want to tell you the next time, in less than three years or so, when you come around you will land in Umuleri. That transaction is very well concluded. It is a tripartite arrangement between Orient Petroleum Resources Limited where Chief Anyaoku is the chairman. I told you anything he touches turns into gold. He cannot go into that transaction if he is not satisfied with the fact that this gold will come."
"The third party is the Chinese Aviation/Exim Bank and when they saw that I was part of this transaction, they were happy to deal and that made things faster things.
"In October, they will land at the airport site to do topographical studies and after that, they will do some other things and before January, they will do the real, because I told them, all these grammar until I see caterpillar working there, I am not happy about it. They gave me all the assurances. By the way, what we are building there is an aerotropolis, that means an airport, an airport city with a five-star hotel, 1,000 room capacity."
Governor Obiano revealed that the partnership had also started a new frontier in the area of oil refining and rail transportation in the State.
"The Chinese company is trying to fund Orient to develop their base stock of crude oil so that they can establish a 55,000 barrels a day refinery at Nsugbe. Aviation fuel need will be automatically served with this development too and that is the power of vision. It will open up the south-east in a manner that is unprecedented and by God's grace, I will be remembered forever for this initiative.
"It is also important to mention that this Chinese, if you look at Anambra particularly Onitsha, Onitsha is the gateway of the South East, all the bulk buying and selling and other commodities are done in Onitsha but we don't have any rail lines.
"Yes, the federal government added one little stretch there but this Chinese company wants to do a rail line right from the airport through the major cities in Anambra so that all these heavy trucks that have been spoiling our roads can haul their goods through the rail line. Again, we are not putting in any kobo. They will do what we call build, operate, manage and transfer, that's what they will do."
Concluding, the governor said that he was on a path of consistency and canvassed for support, adding that:
"The coming election is an election for consistency, you decide where you want to go. You want to move forward or you want to move backward. I have the momentum, I am already moving. Every other guy coming will be trying to, you know before you wake up from inertia, I am already rather out there so, I want you to encourage what we are doing.
"In the last three and half years, we attracted $7.5 billion in Anambra state; 27 companies, 16 are on ground working; employed over a total of about 25,000 youths all in two years. I thank all who have made that possible."