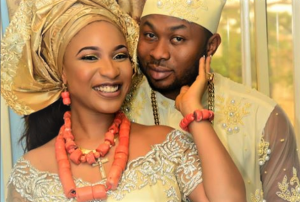 Controversial actress Tonto Dike is threatening to sue any media house that publishes a yet to be released video clip from her ex-husband Olakunle Churchill.
In a statement released by her lawyer, Dikeh said the video was her reaction to physical abuse suffered from her ex.
The statement titled 'Imminent release of an edited video on Tonto Dikeh by ex-husband' was signed by Messrs Okechukwu Uju-Azorji and John Ainetor for Festus Keyamo Chambers.
It read: "We act as solicitors to Miss Tonto Dikeh, a prominent Nollywood actress," it read.
"It has come to our knowledge that her ex-husband, Mr. Olakunle Churchill has perfected plans to release a short and edited video depicting and portraying our client as being involved in some domestic violence against him.
"Our client wants all bloggers and/or journalists to request for the full version of the video showing the said domestic scene which started with a physical abuse of our client by her ex-husband, which earned her a swollen face.
"Her ex-husband only intends to release our client's reaction to the assault on her and not the assault itself.
"We shall be prepared to take legal action against any blogger/journalist that uses the edited version without insisting on or showing the full version."
Tonto and her ex-husband have been embroiled in a bitter and acrimonious battle since the short-lived marriage ended.