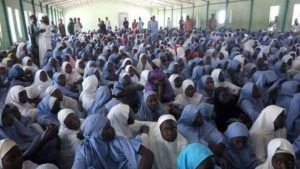 Tribune newspaper captured my thoughts in this editorial on the Dapchi girls abduction. Read on…
---
The nation was once again in the throes of anger and desperation following the abduction of students of Government Girls Science and Technical College, Dapchi, Yobe State, by Boko Haram. The incident came four years after the same terror group invaded a female school in Chibok, Borno State, taking into captivity, more than 200 girls. Up till now, more than 100 of those hapless girls remain in captivity, despite the repeated promises by the government that it would secure their release after a tripartite negotiated freedom for a number of their colleagues last year. Although the terrorists have sustained their sporadic attacks on mostly soft targets over time, the Monday onslaught on Dapchi College is most frightening, and virtually all the concerned authorities are enmeshed in panicky measures and cacophonies.  None has been able to provide concrete clues on the circumstances surrounding the abduction, particularly the actual number of the "unaccounted for girls."
At the initial stage, the authorities declared that none of the girls was missing, only for the military and the state government to later claim that the Army had rescued 50 students. The state governor, Ibrahim Gaidam, promptly recanted and issued an apology, claiming that he was misled by a false intelligence report from a security agency involved in the war against insurgency. Sadly, almost a week after the tragedy, the actual number of students abducted or rescued remains speculative. Governments at state and federal levels and the military authorities are mired in claims and counter-claims. While President Muhammadu Buhari's apology following the national embarrassment is a welcome development, the way the whole crisis has been handled is most nauseating, inconsiderate and discourteous. The government's conduct following the calamity is shameful and degrading. It raises disturbing questions about its capacity and readiness to guarantee the safety of life and property across the country.
In particular, the government's conduct has fuelled public anger and made the parents and guardians of the abducted girls to question its capacity to manage crisis. It is totally unreasonable and callous for the government to preoccupy itself with fairy tales, claiming that some of the girls yet to be accounted for might be hibernating in the villages to which they fled after the onslaught on their college, instead of making serious efforts to track their whereabouts.
We believe that the Dapchi abduction is not just another national calamity and embarrassment but an avoidable tragedy. If the various authorities had done the needful more diligently and faithfully, the back and forth between the state government and the military over security lapses before the incident and the rescue operation would have been entirely unnecessary. At this stage, it is important to caution that the Dapchi abduction should not be allowed to degenerate in the manner that the Chibok Girls saga did. Enough of buck-passing among the concerned authorities; the girls must be rescued without further delay. The somberness on the part of the Presidency must translate into quick re-uniting of the students with their families.
Lastly, the whole episode should be investigated   and  whoever is found culpable should be sanctioned appropriately to show the place of discipline, professionalism and decorum in public service. Those who shirked their responsibility to protect life and property must not be allowed to go scot-free.