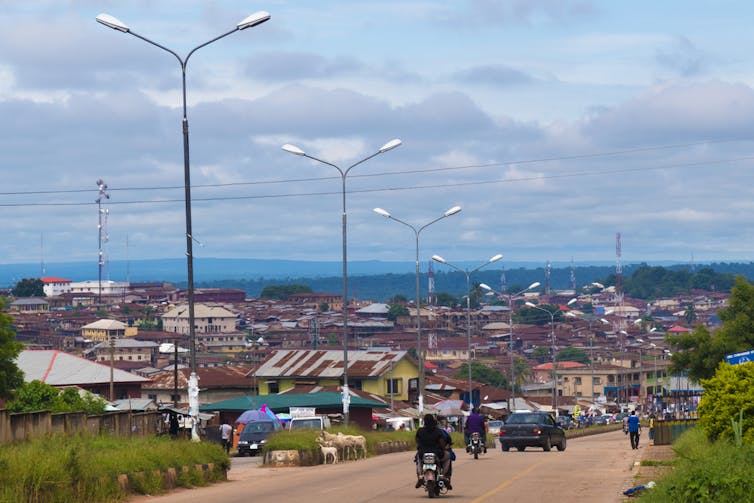 Nigeria is experiencing a remarkable paradox. The country has abundant energy resources – and yet many of its residents can't access sufficient energy. About 40% of Nigeria's population don't have access to electricity and around 70% of households rely on firewood for their most basic needs, like cooking. This is dangerous. Annually, 93 000 Nigerians die from smoke inhalation.
The government is trying to tackle its energy issues, particularly by focusing on renewable resources. For instance it has built more natural gas power plants. It has also increased the number of off-grid solar PV systems – which convert solar energy into electricity – in rural areas .
These interventions came after the Energy Commission of Nigeria, which is in charge of coordinating and supervising all energy functions and activities within each member state, conducted a number of studies. Their research aimed to ascertain the country's future energy demand and supply projections. But the commission didn't really address how demand could be met in an environmentally sustainable way.
We wanted to address this gap. So we conducted a study that identified efficient ways of meeting Nigeria's energy demands at minimal cost and with low carbon emissions. Our results suggest that increasing the country's renewable energy capacity and introducing nuclear energy will be the best approach.
This may seem like a strange combination, given ongoing controversies around nuclear power. But nuclear power produces low emissions and uranium ore is readily available in a number of Nigerian states.
Our results show that combining these improvements to energy efficiency with fuel switching and technology switching has the potential to lower energy demand by 826 Petajoules in 2040 (229,444 GWh). Fuel switching involves moving from one fuel type to another, such as from kerosene to liquefied petroleum gas. Technology switching is the process of changing conventional energy technologies to low carbon energy technologies. For example, petrol generators can be replaced with rooftop solar PV systems.
Here are some changes that Nigeria can make to properly harness its energy resources.
A range of changes
1. Improving technologies in the home
More households are starting to use safer, energy-efficient cooking stoves. But these are more expensive than traditional firewood stoves. And people aren't educated about the importance of energy efficiency. Consumer awareness is key.
2. Energy efficiency standards in buildings
Our study found that increasing solar PV systems in residential and commercial buildings could reduce energy consumption by more than half. The government should provide incentives for buildings with solar PV systems and reward those groups or organisations that maintain good standards of energy efficiency.
3. Making strides in the industrial sector
Improving energy efficiency in the industrial sector is vital in achieving low carbon development. Simple switches like maintaining air conditioners and switching off lights during the day will really help.
Industry could also tap into the Global Energy Efficiency and Renewable Energy Fund. This provides capital for projects that aim to improve sustainable energy and energy efficiency.
4. The transport and electricity sector
Changes in the transport and electricity generation sectors could significantly lower greenhouse gas emissions in Nigeria. We found that encouraging public transport could make a huge difference.
Alternative vehicle fuels – liquefied petroleum gas, compressed natural gas, or bio fuels like petrol and ethanol, blended fuel and electricity for electric cars – will reduce the dependence on high emission emitting petrol and diesel fuels.
Nigeria's government could adopt the global Autogas Incentive Policies, or develop something similar. Incentives include lowering vehicle taxes and removing barriers like parking restrictions. Some countries with successful policies of this nature include Germany, India, Japan and Thailand.
Carrying projects through
To its credit, the Nigerian government is already championing various initiatives designed to address the country's widespread energy poverty.
For instance, low carbon development has been championed by the Renewable Energy Program, which is part of the Ministry of Environment. Through this programme the Nigerian government has set up projects to promote cleaner energy to mitigate climate change. Some projects include developing a bio fuel production complex in the northern part of Nigeria's Ekiti state, and the establishment of a rice processing and power generating plant in Adamawa state.
The government has also started a campaign to raise public awareness about firewood and introduce clean cooking stoves which are more energy efficient and less polluting. Other projects include the 50 MW solar farm in Kaduna state, an energy efficient housing scheme, the Nigerian Clean Energy Access Programme and the introduction of compressed natural gas bus transport system in Nigeria .
These projects are mostly in the early stages. Authorities must commit to seeing them through.
Another important focus will be for Nigeria to develop homegrown solutions and technologies. This is because energy technologies such as solar PV manufactured overseas may be substandard. The government should provide incentives for local investors and promote indigenous technologies.
Some examples include the case of bio fuel incentives in Mozambique. There, private biofuel companies can benefit from tax exemptions when exporting bulk of biofuel products to Europe and the United States. In South Africa, the Renewable Energy Independent Power Producers Procurement Programme launched in 2011 led to the development of the wind industry with an increase in local content and a rise in Black Economic Empowerment.

Nigeria and Ghana's governments have declared support for and partnership with local solar PV manufacturers to boost local manufacturing of solar PV systems. With policy incentives and government support, Nigeria can tackle its energy crisis and improve its energy access.
This article was originally published on The Conversation by Nnaemeka Vincent Emodi, P.hD. candidate in Energy and Environmental Economics and Policy, James Cook University