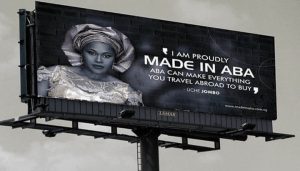 Most of the important things in the world have been accomplished by people who have kept on trying when there seemed to be no hope at all. ~Dale Carnegie
As a proud 'Aba brought up' I was thrilled to see the short clips from Aba boys hyping the street credibility of those who grew up in the good old Enyimba city, so I added mine and enjoined other homies to do so. Some of the videos went viral and in no time people from other southeastern towns who felt challenged made their own videos to diss Aba more than to hype their own unique characteristics. The incident elicited some sharp exchanges and even though some took things a bit too far no harm was done. Rather it mostly gave us a few days of some healthy banter that was needed in a period of lockdown.
Nevertheless, any forthright observer who is conversant with the south-east will tell you about the uniqueness of Aba. The resilient spirit displayed during the Aba women's riot never left the town. Ojukwu himself cited this while professing his love for the town which he described as the "Igbo Heartland" and requested that his remains must be taken to Aba before interment.
Combined with the entrepreneurial skills of her artisans and the quick wits of the everyday people these peculiar traits have placed Aba youths among the most successful Igbo people around the world. For us, survival is a must and impossible is nothing. My friends from the University of Maiduguri can attest to how I survived by selling clothes made by a tailoring genius named Colchoclob. Wherever you come across an 'Aba brought up' you won't need a second guess.
In any case, one cannot blame those who have an erroneous impression of Aba, after all, it is now reputed to be the dirtiest city in the South East if not the entire nation. It has come to represent all that is the failure of governance embodied in many Igbo leaders.
Aba did not become the jhuggi it is now in just one day. As one who lived there during her glory days, my heart continued sinking as I watched the deterioration from the turn of the new millennium. Her dramatic social and economic decline can be likened to a lethal injection administered through many years of consistent misgovernance by leaders and pervasive abuse by residents.
And even though this can be traced back to the military era, it must be said that our current democratic experiment spelt the death knell. I mean as of 2000, I was still able to muster friends from different parts of the country to grace the maiden graduation ceremony of my mother's school. But I would later relocate her to Abuja in 2010 after the kidnap of her friend and several threat messages sent to her by men of the underworld. It may be difficult to find any Aba resident sending invitations beyond the town these days.
I was born in Enugu and raised between Enugu and Aba. In that time I visited Owerri severally and lived in Onitsha so I know the major cities in the south-east like the back of my hand. Enyimba city back in the 80s was what you can rightly describe as the typical Igbo man's dream town. It had a balanced mix of a busy commercial centre and the serene ambience of a suburb.
The sprawling metropolis was literally divided into two halves, a densely populated commercial part known as 'town' and the newer, more residential half aptly named 'over-rail' because of an imagined boundary created by a traversing rail line. There is a massive motor park strategically located in the city centre yet a few metres away you can relax at the nearby Rotary Park or in the shades offered by the rubber plantation also within a strolling distance.
In Aba town, you usually find the proletariat while the elites reside in 'over rail'. The various intersections in the 'town' like East by Azikiwe, Kent by School road bear a quaint similarity with those in Piazza Garibaldi Naples while the massive Plazas that dot Park and Pound roads by Asa road remind me of the Haussmann buildings that line the boulevards of Paris.
When Owerri could boast of only two major roads in Douglas and Wetheral, Aba already had dual carriageways like Aba-Owerri, Factory, Azikiwe, Ikot Ekpene and Port-Harcourt roads. Having crisscrossed the South East I am yet to see a better quality road than Margret Avenue financed by PZ Industries in the early 80s or the Okpu Umobo road done by The Church of Jesus Christ of Latter-day Saints.
At the time Enugu had just the Nigerian Bottling Company located at the suburb of 9th mile, Aba had a purpose-built industrial layout within the metropolis. It was professionally mapped with solid paved roads constructed during the colonial days. Together with the commercial factory road, they hosted industries and major multinationals like NBL, Lever Brothers, International Equitable, UAC, UTC, GB Ollivant, RT Briscoe, SCOA, Bata CFAO and John Holt.
Local enterprise equally thrived because Ariaria market which is one of the biggest in West Africa provided a ready ground for the production and trade of technical, textile and leather wares. It was not surprising that Aba topped the nation in indigenous production as companies like Star Paper Mills, Starline Industries, Onwuka Hi-Tec were leading manufacturers.
It was also home to Ejinaka and Thornber which was the biggest private farm settlement east of the Niger. While Rufus Obi Chemist, Presidential tailors and Moneme bookshops gained national recognition in their various industries. The economy of the town boomed and traders trooped in not just from other parts of the country but also from across West Africa thereby earning her the nickname "Japan of Africa".
The senior staff of the multinationals ensured that the residential part of 'over rail' was impeccably clean and tranquil. Our station avenue residence at GRA Aba shared a common fence which hosted a salad market with Jaja Wachukwu's boat-shaped house. I still recollect naira notes spluttering into our compound while the crowd beneath scrambled as the helicopter departed with the Great Zik of Africa after a campaign rally. At the end of the street was the railway station, intermittently busy when the trains arrive and calm soon after they depart.
Extracurricular activities over the weekends were in abundance. Many do not know that Aba has a functional sports club, a golf course, three cinemas and many wonderful hotels? From Ghana, Cameroun, Congo and South Africa notable international musicians who toured the country all played at Hotel de Unicoco.
Back then Enugu and Owerri were regarded as the civil servant's town inhabited by salary earners who lived in flats and drove in old Peugeot cars with East Central states number plates. Whereas Aba had a mix of wealthy businessmen, industrialists and civil servants. You were more likely to see a chauffeured limousine in Aba than elsewhere in the East.
However, all that is now history. And quite sadly so, because 16 years and two governors down the line, Enugu is thriving while Aba is bleeding. Sullivan Chime consolidated on the good work started by Chimaroke. He constructed new roads while maintaining the ones he inherited. His administration was inclusive and vibrant youths brought innovative ideas to the table of governance. Take for instance the Polo park which was transformed into an ultra-modern shopping mall while the entertainment framework that made it an attraction for families was upgraded.
Whereas Theodore Orji took Aba from Orji Uzor Kalu's frying pan to the fire. His governance style which was a parochial affair of nepotism and cronyism resulted in further decay of the already rotting infrastructures built by the military. Widespread insecurity and wanton kidnapping became the order of the day as the town suffered from economic stagnation and rising unemployment. Added to the protracted altercation between Ngwa people and non-indigenes the consequence was that potential investors were scared away while many Aba residents relocated to other cities.
While real estate in Enugu is almost competing in value with Lagos and Abuja you will rarely find any serious businessman looking to invest in Aba. I have severally referenced the simultaneous progress of Enugu and the decline of Aba as an apposite example of the impact of good/poor leadership. Indeed the T.A Orji era marked the lowest point of decadence for the once prosperous Enyimba city.
Nevertheless, all hope is not lost. For in all her woes some folks who have rooted investments remained in Aba. They never abandoned the town, and it is upon their strength that concerted efforts to rebuild the city should be anchored. The video challenge may have been a little game to while away idle time but it stirred enough emotion in many and inspired me to write this piece. We should now go further to develop and disseminate ideas through various platforms on the pathway to resurrect Aba.
For instance, we can begin with pressurising the sluggish incumbent governor to do more while urging security agencies to ensure diligent and quicker prosecution of Abia treasury looters. We know people in government. At least two commissioners in the state are my friends. We can also contribute to build/rebuild some of the decadent social infrastructures in Aba. Of course, it is a long road but Rome, as they say, was not built in a day. And if nothing is impossible for an 'Aba brought up' then working collaboratively with the state government a lot can be achieved. It is time to restore the abused pearl of Africa to her old glory.