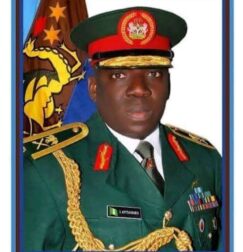 The pain of the loss of a loved one is excruciating; I have been there and I have been there and it is never a feeling I want to wish for anyone as a Christian who believes in the love of all. My heart goes out to the family of the late COAS; Lt. Gen. Ibrahim Attahiru and of course the families of all those who died with him. May God forgive all their sins and grant them eternal rest.
Now, the outburst of diverse emotions on social media by different opinion groups calls into question the morality of serving the Nigerian state in a military capacity. However, no matter the reason why anyone chooses to express their emotions about this tragedy in whatever shade of the divide, I must point out that it is un-african and inhuman to celebrate the unfortunate death of a fellow citizen.
Understandably, those who are jubilating over the death of this gallant warrior justifies their hard stance on his roles in various theatres of operation designed to compel by fire by thunder, the unity of Nigeria as an indivisible country; vis-a-vis the Biafran agitations where often the State opts for kinetic approach leading to avoidable deaths of innocent citizens. I am always of the opinion that "fire for fire" as a strategy for managing social crises or upheavals is lame; the end result is often raging inferno. "Fire for fire' can be sufficed as "crime for crime". Alternatively, 'Water for fire' to me is a more persuasive and diplomatic approach which practically should produce desired results out of a crisis situation. It holds a solution for both kinetic and non kinetic approaches to douse social tension.
The Nigerian state is a champion when it comes to making a storm out of a teacup. The crushing of protests and agitations for better governance or for self determination (which are guaranteed rights under various international charters and conventions) with brutal force have always ended up pinning the Nigerian Army and its fine officers against the people. We saw that with the State management of Boko Haram at its inception, at #lekkitollgate and the same plot replayed in the handling of Kanu's IPOB agitation for Biafra where a people's tradition was desecrated. Now in the quest to unmask the unknown gunmen of Southern Nigeria, the same hellish approach is being proffered over common sense. In the world of today, war-war has never really won any war conclusively but jaw-jaw. Incidences abound in history to draw clues from. The most recent is the ongoing Israel and Palestine conflict where war has just been suspended to give room for dialogue, even though the loss of lives on both sides would have been avoided if wisdom had prevailed above grandstanding.
Today, the family and friends of Lt. Gen. Attahiru are in great pains not only for their loss but also for the loss of affection from a divided citizenry he fought to keep united; a dangerous trend that will only keep widening the crack on Nigeria's quest for unity.
Tomorrow, another fine officer of the Nigerian Army will take Attahiru's place with options to either to continue to wallow and grope in the darkness of ultimate search for Nigeria's unity at the cost of Nigerian lives or to pause, reflect and advise his C-in-C to listen to the cries of his dying subjects in the hands of terrorists, invaders and policy driven poverty.
Whichever way the pendulum will swing, time and the President Buhari government shall tell.
Today, I came to bury Caesar not to praise him; the evil that men do lives after them, the good is oft and interred with their bones. God alone is the judge over the living and the dead.
Sleep in peace COAS Lt. Gen. Ibrahim Attahiru and all the officers who departed with you including all other souls who died in the course of solving Nigeria's unity question.
A brighter morning is ahead of us all.
By Ugo Ezeokwuosa.