She was 45 when we lost my dad. Daddy was the family patriarch and provider. Seven of us were still in school then and my mum was about to leave for her doctorate in African-American studies at the University of Chicago.
She was dealt a heavy blow by death.
But life must go on.
The estate and businesses left behind by my father could have sufficed for a prosaic woman but not this industrious Ada Amawbia.
In the past 3 decades without her husband, she has sold borehole water, ran a school in Aba, ran a cab service in Abuja, participated in several MLM products, and even owned a rice farm in Lokoja among numerous endeavours to ensure that she provides the best for us.
My admiration and respect for her tripled after I complained to my sister about one disaccord. My sister politely advised;
"My dear brother please listen to me. You have to go the extra mile to accommodate our mother's little idiosyncrasies. Remember that at her age many widows often remarry soon after the funeral rites but she prioritised her children and immersed herself in the Lord to raise us".
So this morning as I was about to drive out I saw my mum attending to her chickens and decided to pen this for posterity sake.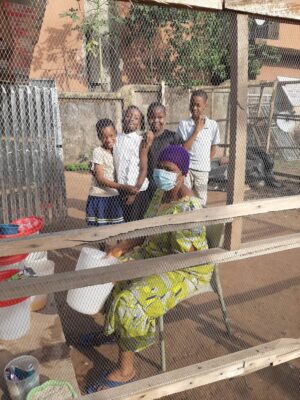 I went back to Ireland in December 2020 when a carpenter was hammering away to build a small poultry shed for my mum. When I returned in January 2021, the 100 chicks were already a few weeks old.
I watched as she fed them twice daily. In the morning and evening with my gateman and the kids in the compound.
By Easter, she sold out and took delivery of another batch of chicks.
1. She made a profit.
2. More importantly, she remained busy and active.
Talk about killing 2 birds with 1 stone.
Isn't the story of my 73yr old mum and her poultry squad inspiring?
#KeepPushing
#GodBlessOurMothers