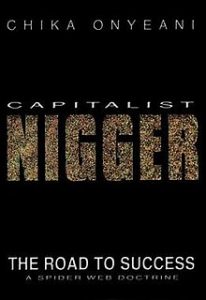 Chika Onyeani's Capitalist Nigga is a book that transformed my worldview in many ways. Although the book proposes what Onyeani called the 'Spider Web Doctrine' — an economic theory for the negroid race to employ self-reliance and ruthlessness — it nevertheless was unsparring in its boisterous indictment of the Negroid race.
Onyeani makes the unambiguous argument for Africans to stop playing the victim and start producing. The spider web doctrine is simple: African Americans as a people should learn to trap their wealth within their communities. If we do not patronise each other, then surely our wealth will leave our community to go and develop other communities. The corollary is collective poverty and this applies even to the whole continent of Africa.
This book will challenge you to think deeper about the reasons behind the black man's underdevelopment. And even if I disagree with some of Onyeani's rather extreme stereotypes I love the fact that he proposed a practical solution albeit capitalist in nature.
I will urge every African who is interested in its development to read the Capitalist Nigger. If nothing it will serve as a rude awakening and possibly spur you into action like I'm sure it has done to many others.
Click here to buy this book.