My Bond With Our Daily Bread (ODB).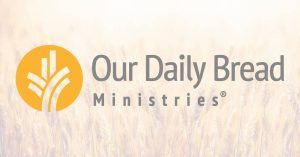 Our Daily Bread has been an invaluable resource for my family for decades. It was our prayer book back in the late 80s but didn't mean much to me until my father's demise in 1992. The period of mourning had my mum completely immersed in Christianity. Nothing else mattered much to her except God and how to raise seven children.
She then made the monthly ODB prayer book a must-have for us. She even subscribed to the annuals and gave out copies to those of us who were studying in faraway places like Maiduguri.
And even then I didn't read ODB regularly. It wasn't until I came down to Amawbia where I lived in our family home as a student of Unizik that I started being more regular with daily prayers on my own. Partly because I decided to nurture my spirituality and also because I lived alone in my flat where I often woke up to no distractions unlike when I had roommates.
From then on, ODB became an indispensable companion, more like my talisman. I began supporting the ministry then. It was a form of monthly tithing for me because I instructed my manager to include ODB in our payroll and gave him their bank account to make the deposits.
I particularly remember 2006 which started as a slow year and gradually got worse. My trucks were broken down and undergoing multiple repairs. Then Enugu petroleum depot where the only small truck that was active usually loaded from was shut down. I had just a few sources of income left and had to adjust. It was the first time I will live on a budget. My phone lines were postpaid so the budget largely consisted of two things. Money for lunch at Anida (my best restaurant in Enugu then) and money for the evening session at Bubbles (my favourite hang-out).
Business was slow. There wasn't much to do daily except to pop into Con Oil office for a chat. So because I had adequate time on my hands I started reading ODB more and more. At a time I was reading it thrice daily and during the weeks of fasting and prayers, I read other resourceful books as instructed. I also started reading the "Bible in a year" section, gulping recommended chapters of the old and new testaments. As the year slowly wound down the miracles started unfolding before my eyes.
Firstly, sometime in August the oldest truck in my fleet, a "M.A.N Diesel bridger" with multiple problems of leakages, calibration and top cylinder suddenly came back to life. When my cousin informed me that it was ready for a test run the next day I was pleasantly surprised rather than doubtful. That truck which had been under repairs for months eventually went to Lagos for bridging to Makurdi and returned with a clean waybill. No shortages!
That same year, we were blessed with twins in November and by February 2007 I was informed by my friend that Total Nig. PLC had approved my dealership application. I would be appointed the dealer of a high volume station in Surulere Lagos.
Our Daily Bread remains an important part of my household and I have many more beautiful stories to tell about God's goodness. But I "ll stop here now and hope that I've inspired you to make daily devotion a part of your own life.
If you enjoyed this please share it and hit the follow button to join our community of digital creatives let's grow together.
Thanks for reading.