I should have worn the sun shades today. The blinding colours of the day would surely affect my sight. Everywhere was a touch of red, making me wonder who propounded the theory of showing love by wearing that colour. It was great relief my shift inspector did not suggest we wear a touch of red to show our solidarity to the event of the day. A rose petal or a red scarf would have been the last straw for our master chef. That man never liked to follow rules especially wearing of uniforms. How the manger retained him all these years remains a mystery to both old and new workers. Our chef's defiance did not deter the manager from ensuring only love-themed music was played at the background, all table covers replaced with those that had love patterns, and the lovers' meal, chicken and chips, were on the day's specials. We were not rated one of the best for nothing.
At the beginning of my shift for the evening, I watched the inflow of couples, young and old, holding hands and having eyes for only each other at the moment. One would think the cupid arrow was shot into every couple especially the ladies giggling and flipping their hairs back and forth. Behind me, a colleague hoped that there would be at least one proposal for the night. A proposal would not only spice things all up but also add to our profile as a good restaurant for future proposals. We all nodded in support though I knew that Sarah, my co-waitress for the day nodded simply because she didn't want to feel left out. Ironically, she was yet to see that our manager had good eyes for her while she blushed at the sight of one of our regular clients. Love, they say is a triangle.
My first table was an older couple, probably in their 60's. With a practiced smile, I introduced myself confirming also by pointing at my badge and requesting for their meal orders. They in turn smiled at me while the husband picked his meal list and quickly made his order. Turning to his wife, I knew my memorable day had began. She had a confused look as she glanced through the list, asked questions on every meal and still did not make a specific order. I could see her husband getting impatient. I was too but my smile remained. She went back and forth, settled for rice and chicken, changed it to the lovers' meal and asked about the constituents of our veggies salad. When I could not stand it anymore, I calmly asked if I should give her time. She was relieved and quickly faced her husband, picking up their discussion from where they stopped and making me wonder if she was even hungry at all. Too bad her husband was, but as love would have it for the day, he joined the discussion as I walked away. I doubted she would have a meal choice when I returned.
My next table was a young man probably waiting for his date as he appeared to be alone, constantly checking his watch and the door. I approached with my signature smile, introducing myself and inquiring of his order. He could not order at the moment but requested a drink while he waited for his date. His date must have been delayed too long because his countenance changed gradually. Frustration was around the corner. Without further delay, I got his drink over the counter and delivered it while smiling within.
With each table having unique challenges for night, I thought I might as well guess the challenge of the next table. My next table had a young couple, probably unmarried, taking selfies on their phones. They looked good together and as I came near, I quickly guessed what challenge they could face tonight. I was in for my biggest shock.
I had guessed the lady would be a picky eater, probably because she was watching her weight. With introductions done, the lady ordered about 3 meals for herself while the gentleman went along with the lovers' meal. My shock must have registered on my face because she laughed at me, blessed God for her type of body and told me I could leave.
I did not understand.
I could not wrap around my head how she would be able to gulp down 3 meals at a sitting, but I sent their orders to the kitchen. I remembered my "table of indecision" and visited them. She almost began her trail of questions when her husband interrupted by making his own order. I quickly suggested she had the same, even from the same plate which brightened her countenance. Their obvious love for each other was beautiful to behold.
"Home Alone" or rather "Date Alone" had finished his drink and ordered for more. I nodded and turned to go but had a second thought. Turning back to him, I suggested he could go and find out if his date was okay. Her absence had him worried but not worried enough to check on her. He mumbled some words before standing up, pleading with me to reserve his table and dashing out of the restaurant. I guess "relationship coach" should be added to my curriculum vitae.
Table 3 had not finished eating especially with the mountain before the lovely lady so I had a little time to rest my feet.
The older couple in no time finished their meals and thanked me. While her husband was paying for their meal, she prayed I would have a lovely Valentine's day like theirs. I laughed knowing I would spend it in the restaurant, waitressing. I turned to discover "Date Alone" had returned more frustrated than before. I walked up to his table thinking of what must have happened.
Immediately he saw me, he stood up and loudly asked if I would be his date.
As if it were all planned, the restaurant became quiet.
I thought it was a prank so I searched everywhere for cameras. My colleagues were even shocked. I quietly declined by telling him I was working but he said he had taken permission from my shift inspector and he had been thinking of how he would ask me all this time. My shock turned into laughter as the room chorused "Say Yes".
I finally agreed and sat down for my first Valentine's date while Sarah took over my tables. My thoughts drifted to the couple that just left. Their prayers were answered in a strange way. I was on a date barely minutes after their departure. "Date Alone" had been waiting for me all these while, praying I became less busy for another to take over.
I was glad I did not wear the shades anymore. He probably would not have seen the beautiful waitress he wanted to date.
About the writer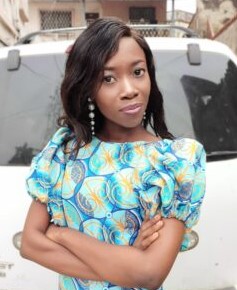 Osanyinro Oluwaseun, a graduate of Microbiology and currently a master student of Public Health at the University of Ibadan runs a blog on WordPress deejemima.wordpress.com