I took a break last week because I had covid but I am back and better now so here we go. While we wait for the series to resume from where we stopped in the 4As, I will once again crave your indulgence to digress a bit. A digression, not a deviation because I stated earlier that this journey will record real-life experiences as we strive to inculcate habits that build our success complex.
So here's my recent experience.
Some time ago, I asked Tweeps to follow me @cmoni2k/medium.com so that I can hit the 100 followers target set by medium for writers to remain on the platform. I had just over 30 followers then. For about 3 weeks, we couldn't hit the target.
I wasn't surprised as I knew that most followers on social media are fringe so to say but I was nevertheless disappointed that despite my pointed appeal, especially to the winners of our various competitions on this page who should exceed 100, we were unable to reach that figure.
Writers who were reasonably fewer in number followed more than many participants in our #SundayPuzzle. By the 3rd week, we had only managed a little above 60 followers which works out to just about 10 weekly.
It was discouraging but even more so because I was writing more with a weekly output of at least two stories. More followers would be a psychological boost, you know, a pat on the back even if you appealed for it.
Well, I took my appeal to my close network on family/friends Whatsapp groups and my personal Facebook page and within 3 days we had over a hundred followers.
Lesson; Pitch your immediate and close networks first, they are the ones that truly care.
I was tempted to stop the #SundayPuzzle. After all, what's the need in giving away 10–20k weekly mostly to people who do not have your back? Folks who can't do as little as encourage you with a follow? I actually stopped for some weeks, say about a month. But like they say we are inspired by others.
So when I saw a tweet by Nigerian singer Eva Alordiah, I was completely swept off my feet. The honesty, lucidity, profundity and sheer power of her words resonated so deeply that I have now bookmarked that tweet for life as a reminder of our PURPOSE IN LIFE.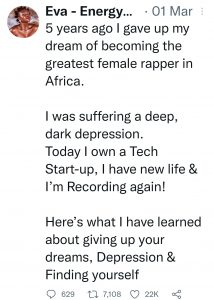 She said, "I found Purpose when I learned that my Gifts were given me by the Creator to help people. Focus on serving people, all else is bullshit". These are strong words, very strong words and can only come from a strong lady! If only we can do this imagine how much better our world would be.
So I told myself that even though a psychological boost may be desirable, it's still somewhat a reward, as in part of what this young lady referred to as the "all else" that is bullshit. I neither started the #SundayPuzzle seeking a pat on the back nor do I need the pat to keep going.
The accolades and support still come all the same. In different forms. One of the best was a young man telling me that the 2k he won was enough transport fare to the school for a week. This is 2 packs of pringles here and frankly, it wouldn't feel like an expenditure to buy that for 10 kids weekly.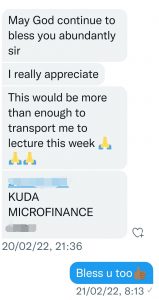 We have been enjoying #SundayPuzzle for almost 2 years and even though it is not a giveaway it can be deemed so by some smart folks who just paraphrase correct answers and retweet.
But if the 2k prize can send one student to classes for a week why shouldn't I continue giving? We mustn't meet people physically to have an impact on them. Moreover, the #SundayPuzzle is fun so what the hell!
I just listened to one of my favourite hymns "How Great Thou Art" and as the spirit moved me I immediately decided to resume our good old #SundayPuzzle. So as we begin a new week let us use the Gifts freely given by the Creator to help people..all else is bullshit!