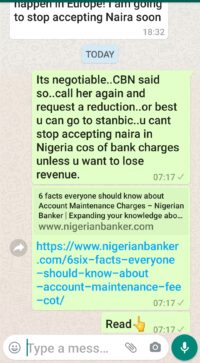 Account maintenance fee palaver. This frustrated client was so livid that he threatened to stop accepting naira.
Now let's be clear: The banking sector in any society is a necessary evil. Banks are all the same everywhere any day and at any time.
But it is important to understand that banks are just like middlemen. They are financial intermediaries who still need to make profits. Besides the shareholders' funds they don't own the money they trade with. They basically receive from the surplus economic units and lend to the deficit economic units at a margin.
I am not defending our banks. I've had my fair share of troubles with them and I'm currently tackling one with Keystone bank
However, just like with many things I've stopped comparing Nigerians banks with their contemporaries over here..and the reason is simple; Our banks operate in a tougher economic environment.
So what to do?
1. Periodically, the CBN releases guidelines stipulating the maximum charges for certain services. Click to see the latest approved charges here.
This is to ensure that no bank charges arbitrarily for services rendered. Visit cbn.gov.ng to arm yourself with this info because our banks are ever willing to exploit the ignorant.
2. Always engage your bank via your account officer first to resolve the matter..move up the ladder and if you are not satisfied move to another bank with a better package.