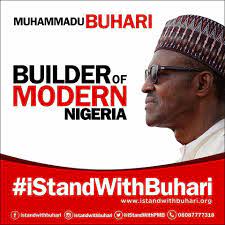 Thousands of youths converged in Awka the Anambra state capital to show their support for the President Muhammadu Buhari led administration. The rally which held at Ekwueme Square was organised by
The rally which held at Ekwueme Square was organised by #iStandWithBuhari organisation. 
There were initial apprehension and reluctance by many as there had been threats by the members of Indigenous People of Biafra, IPOB, and other pro-Biafra groups had earlier threatened to disrupt any rally in support of Buhari.
Movement for the Actualisation of the Sovereign State of Biafra (MASSOB) in particular had issued a statement through its spokesperson Comrade Uchenna Madu stating that "This rally will not hold anywhere in Biafra land. We have discovered that this is the reason why some Igbo politicians are driving their way into APC that has no interest for Ndigbo.
"We shall never allow them to bring political disgrace to Igbo land.
"What is the significance of the APC rally in Igbo land? Do Ndigbo have any love or likeness for Buhari and APC? Why must such disgraceful rally be planned to hold in Ojukwu's home state?
"Is the rally more important than the Federal Government's abandoned second Niger Bridge, Enugu-Onitsha federal road, Enugu- Port Harcourt express way, Onitsha- Okigwe Federal road, etc?
"MASSOB warns the Professor Osibanjo-led Federal Government to call off the APC proposed rally because we shall resist it.
"Our advice is that such a rally should be held in Hausa- Fulani land, where Buhari's kinsmen are living."
However, the rally was held successfully without hitches and coincidentally President Buhari himself arrived in the country in the early hours of the same day.