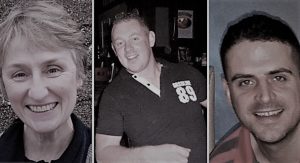 Before Ophelia, they were planning just like we all did.
After Ophelia, they are gone with the bat of an eyelid.
Gone in a whiff like a stone off the cliff.
Gone with the storm and left many numb.
Ophelia may have come and gone.
But we are stronger with each dawn
Tears and tributes will not bring you back.
But agony and sorrow will come and pass
Éire will not forget how 3 lovelies were taken away.
So rest in peace for your memories will hold sway.
For Clare, Michael, and Flintan who lost their lives as storm Ophelia swept through Ireland on the 16th of October 2017. RIP