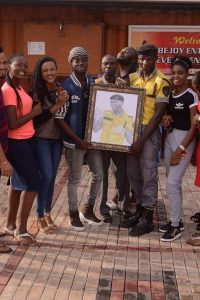 I just had to blog this. I remember once when I drove through Aroma with a friend, I stopped and had for the usual exchange of pleasantries with Darlington.
"Nwanne kedu ka osi ara?" (How is it going?) I asked.
"Udo di",(No problem) he replied.
I slid a note into his palm as we drove past and headed towards Unizik junction. My friend who was still peering at the rearview mirror as Darlington continued his break dancing traffic control said,
"I hope the Governor will stop at this junction to appreciate this guy someday"
Well, that day came when Governor Obiano gave him an award of excellence in 2016.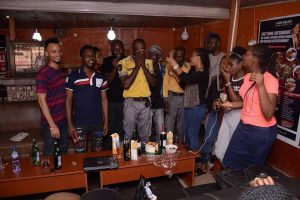 Two days ago he celebrated his birthday and friends gathered to honour him. He is our own celebrity. Before he came to Aroma junction you couldn't pass there in hours as it was always jammed. But Darlington's passion and style endeared him to road users and Awka residents who respect and obey his dancing commands but also reward him generously.
He is a real example of dedication to duty and a living proof that passion with creativity in any vocation will guarantee success. You needn't be a billionaire to be successful and fulfilled in what you do.
Happy birthday Darlington.
Photo cc: Abs
Video cc: AwkaCity Youtube