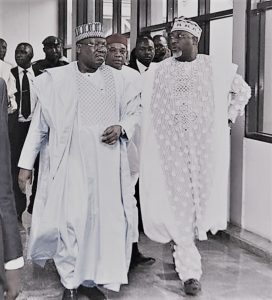 "It is not the critic who counts; not the man who points out how the strong man stumbles, or where the doer of deeds could have done them better. The credit belongs to the man who is actually in the arena, whose face is marred by dust and sweat and blood; who strives valiantly; who errs, who comes short again and again, because there is no effort without error and shortcoming; but who does actually strive to do the deeds; who knows great enthusiasms, the great devotions; who spends himself in a worthy cause; who at the best knows in the end the triumph of high achievement, and who at the worst, if he fails, at least fails while daring greatly, so that his place shall never be with those cold and timid souls who neither know victory nor defeat." ~ Theodore Roosevelt
I don't know about you but for me, the above quote succinctly describes Dino Melaye. Whether he is dancing, fainting, jumping out of a moving police vehicle or climbing imaginary trees, the Kogi senator is just as charismatic as he is enigmatic.
He maybe boisterously garrulous but he definitely understands the game of politics and is playing it to his strength. He always gives the masses a spectacle, something to talk about while he maintains a close relationship with his constituents and an even closer alliance with his colleagues across the political divide and believe it or not that is why he has been winning most of his political battles against heavy odds.
Frankly, I don't give a hoot about the upcoming Kogi Guber elections but I have a hunch that in a free and fair contest he will give the incumbent Governor Yahaya Bello a good run for his money.
In any case whether or not he wins or even contests, one thing is certain, Dino will be in the nation's political space for a very long time.