Do you know that the man who turned the Toronto Raptors around to become the 2019 NBA Champions is a Nigerian?
He is 49-year-old Masai Ujiri, an Isoko man from Aviara in Delta state. Ujiri was born in the UK but spent a part of his childhood in Zaria where his dad worked as a nurse. At the age of 8 during his primary school days, he used to play at the ABU Zaria basketball courts where he met his mentor and renowned godfather of African basketball Oliver B. Johnson popularly known as OBJ (An American who has lived in Nigeria for almost 5 decades churning out basketball proteges).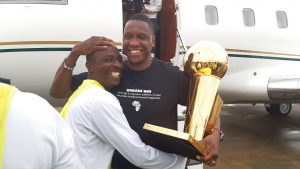 Ujiri visits Africa every summer to help train young players through his foundation aptly named "The Giants of Africa". Founded in 2003, the GOA train about 50 kids each summer boot camp in a rotation across Nigeria, Ghana, Kenya and Rwanda. Oftentimes 80% of the kids go on to play abroad.
But this summer was special as Ujiri brought home the trophy to Zaria this August and was received by none other than his mentor OBJ whom he invited to Toronto back in June when they conquered the Golden State Warriors.
As usual, he took his wife and crew around his hood to reminisce and reunite with old folks. I once read a report on his work with African kids where the guy said he hopes to change the continent through basketball. He will always tell the kids that, "Basketball will take you places"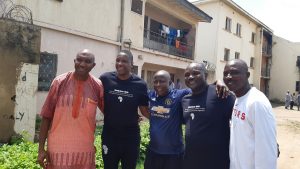 Someone rightly said that those who left Nigeria with nothing often come back to give back whereas those who have stolen the most from the nation stash their loot abroad while broadcasting to the world that the country is unsafe.
In a few years from now, Ujiri will look back and proudly say that he has done for Africa what so many of her leaders couldn't do.
What a story. What a giant!
Photo credit: @ABUZaria_DUA