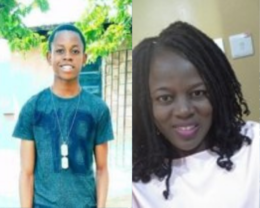 Roselyn Sho-Olajide and Johnson Onyedikachi have won the N20,000 cash prize for week 21 of the #CmonionlineEssayCompetition with their essays titled The Botched Job and Don't Die On Your First Job respectively.
Roselyn announced her entry in week 19 with My First Love., an emotional treatise that impressed the Judges and instantly flagged her as one to watch out for. Since then she has submitted works for the subsequent weeks and landed the prize on her third attempt. In The Botched Job, she immediately triggers the reader's imagination with a suicide scene and then relives the story from the past with graphic details. Roselyn packs a combination of simple grammar with succinct brevity and her ability to weave a tale in the first person is top-notch. Congrats on your first win Roselyn and we hope to read more from you.
Johnson has become a serial winner and a Judge had this to say about this remarkable young man: "I would have given this boy a 10 but for the fact that as the ruler of Dubai said, "in the race for excellence, there is no finish line". Considering he is a teenager; probably not even in a university yet or have not graduated, but wrote very creatively, with no spelling or grammatical errors. He needs to be encouraged.  He is my Week 21 winner." Well done Johnson, you must not stop writing.
Our Judge went on to commend the standard thus: "I must say the quality of the contributions have considerably improved from what it used to be.  Well done!  I am highly impressed with what I read, especially the fictions.  Chisom, Oluwaseun, Emmanuel, Roselyn and Johnson wrote captivating, riveting and suspense-filled stories.  I applaud them. Its a pity only one person can be the winner."
Feedback:
7:00 A Need For A Healing by Victor Oladejo.
The writer needs to review his work for grammatical errors before submission. Elementary errors like been for being and birds for beards harms his chances.
Regrets And Pain by Timilehin Igeleke.
Timilehin is a good writer and has a knack for fantastic plots. In this essay, however, the dialogue between James and his mother could have been abridged while still providing the same information.
Soro Soke Generation: A Beacon Of Hope For Nigeria's Redemption by Sunday Ogbaga.
A very good essay. The writer made the effort to research and find compelling points to support his position. High quality in grammar, syntax, logic and content. He is definitely a winner too.
The other essays were equally good and just as a judge stated we are improving and can only get better. Congrats to all our writers. We also say a big thank you to the Judges and readers.
New topics for week 22 have been published. Click here to see them and participate.