Fellow bookworms, last year appears to have been a wonderful year for African literature—we witnessed new books from literary luminaries like Wole Soyinka's Chronicles from the Land of the Happiest People on Earth, prestigious Nobel Prize winner Abdulrazak Gurnah's Afterlives, Booker prize winner Damon Galgut's The Promise, to Akwaeke Emezi's critically acclaimed nonfiction Dear Senthuran, Mukoma wa Ngugi's Unbury Our Dead with Song, Nadifa Mohamed's The Fortune Men, which was shortlisted for the Booker prize. The list is inexhaustible. 2021 also brought a surge in debut, inspiring and captivating voices that left us marveling at the wealth of their genius writing—writers who we had enjoyed their short stories, and patiently waited for their first long form works, including TJ Benson's The Madhouse, Uwem Akpan's New York, My Village, Caleb Azumah Nelson's Open Water, and Khadija Abdalla Bajaber's The House of Rust. The good news is, this year promises to be even more exciting.
Together we've compiled a list of fifteen books we cannot wait to read, spanning several universes, timelines, countries, exploring emotions from love, heartbreak, anger, and the diverse human condition. Some of the titles on this list have been published while the others are set to arrive in the later parts of the year. Brace yourselves! We're about to have a ride.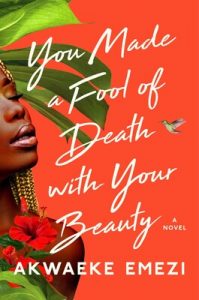 You Made a Fool of Death with your Beauty, Akwaeke Emezi
Feyi Adekola wants to learn how to be alive again.
It's been five years since the accident that killed the love of her life and she's almost a new person now—an artist with her own studio, and sharing a brownstone apartment with her ride-or-die best friend, Joy, who insists it's time for Feyi to ease back into the dating scene. Feyi isn't ready for anything serious, but a steamy encounter at a rooftop party cascades into a whirlwind summer she could have never imagined: a luxury trip to a tropical island, decadent meals in the glamorous home of a celebrity chef, and a major curator who wants to launch her art career.
She's even started dating the perfect guy, but their new relationship might be sabotaged before it has a chance by the dangerous thrill Feyi feels every time she locks eyes with the one person in the house who is most definitely off-limits. This new life she asked for just got a lot more complicated, and Feyi must begin her search for real answers. Who is she ready to become? Can she release her past and honor her grief while still embracing her future? And, of course, there's the biggest question of all—how far is she willing to go for a second chance at love? ​
Akwaeke Emezi's vivid and passionate writing takes us deep into a world of possibility and healing, and the constant bravery of choosing love against all odds.
In other news, Amazon studios and Michael B. Jordan's Outlier Society has won an auction for the screen rights to the novel, with Emezi as executive producer.
Wahala, Nikki May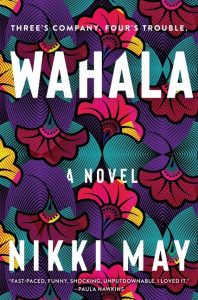 Trouble can take many forms, and in this case, trouble, or "wahala," takes the form of a new, hideously wealthy friend Isobel who inserts herself into the lives of inseparable London trio Ronke, Simi and Boo. The fallout from the subsequent changes in each friend's life is both endlessly entertaining and thoroughly thought-provoking. A character-driven thriller perfect for fans of Liane Moriarty, Wahala is taut with feeling and heartbreak. It is without a doubt an unputdownable, page-turning novel.
Yinka, where is your Husband?, Lizzie Damilola Blackburn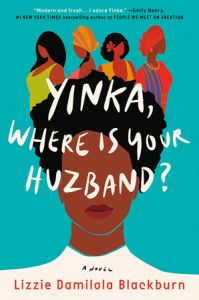 Yinka, Where is Your Huzband? brilliantly subverts the traditional romantic comedy with an unconventional heroine who bravely asks the questions we all have about love. Wry, acerbic, moving, this is a love story that makes you smile but also makes you think–and explores what it means to find your way between two cultures, both of which are yours.
Goliath, Tochi Onyebuchi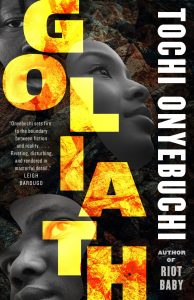 In the 2050s, Earth has begun to empty. Those with the means and the privilege have departed the great cities of the United States for the more comfortable confines of space colonies. Those left behind salvage what they can from the collapsing infrastructure. As they eke out an existence, their neighborhoods are being cannibalized. Brick by brick, their houses are sent to the colonies, what was once a home now a quaint reminder for the colonists of the world that they wrecked.
A primal biblical epic flung into the future, Goliath weaves together disparate narratives—a space-dweller looking at New Haven, Connecticut as a chance to reconnect with his spiraling lover; a group of laborers attempting to renew the promises of Earth's crumbling cities; a journalist attempting to capture the violence of the streets; a marshal trying to solve a kidnapping—into a richly urgent mosaic about race, class, gentrification, and who is allowed to be the hero of any history.
Akata Woman, Nnedi Okoroafor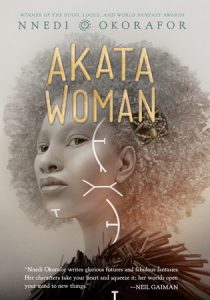 From the moment Sunny Nwazue discovered she had mystical energy flowing in her blood, she sought to understand and control her powers. Throughout her adventures in Akata Witch and Akata Warrior, she had to navigate the balance between nearly everything in her life—America and Nigeria, the "normal" world and the one infused with juju, human and spirit, good daughter and powerful Leopard Person.
Now, those hard lessons and abilities are put to the test in a quest so dangerous and fantastical, it would be madness to go…but may destroy the world if she does not. With the help of her friends, Sunny embarks on a mission to find a precious object hidden deep in an otherworldly realm. Defeating the guardians of the prize will take more from Sunny than she has to give, and triumph will mean she will be forever changed.
Vagabonds, Eloghosa Osunde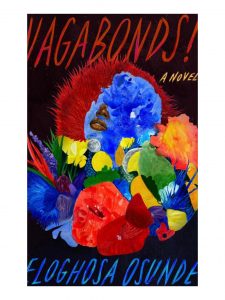 Eloghosa Osunde's brave, fiercely inventive novel traces a wild array of characters for whom life itself is a form of resistance: a driver for a debauched politician with the power to command life and death; a legendary fashion designer who gives birth to a grown daughter; a lesbian couple whose tender relationship sheds unexpected light on their experience with underground sex work; a wife and mother who attends a secret spiritual gathering that shifts her world. As their lives intertwine—in bustling markets and underground clubs, churches and hotel rooms—vagabonds are seized and challenged by spirits who command the city's dark energy. Whether running from danger, meeting with secret lovers, finding their identities, or vanquishing their shadowselves, Osunde's characters confront and support one another, before converging for the once-in-a-lifetime gathering that gives the book its unexpectedly joyous conclusion.
Blending unvarnished realism with myth and fantasy, Vagabonds! is a vital work of imagination that takes us deep inside the hearts, minds, and bodies of a people in duress—and in triumph.
No One Dies Yet, Kobby Ben Ben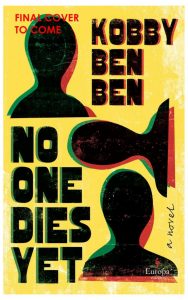 In Ben's book, as Black diasporans around the world make the pilgrimage to West Africa, three African-American friends join in the festivities to explore Ghana's colonial past and its underground queer scene. The synopsis reads: "They are thrust into the hands of two guides, Kobby and Nana, whose intentions aren't clear, yet they are the narrators we have to trust. Kobby, a modern deviant according to Nana's traditional and religious principles, offers a more upscale and privileged tour of Ghana and also becomes the friends' link to Accra's secret gay culture. Nana's adherence to his pastor's teachings against sin makes him hate Kobby enough to want to kill. In 'No one dies yet,' Kobby begins, setting the tone of what will become an unsettling tale of murder in a country whose dead slaves are shackled with stories that must be heard."
Such a Beautiful Thing to Behold, Umar Turaki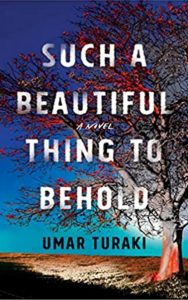 An inexplicable sickness. A small town cut off from the world. An unexpected community of survivors forges a family out of the despair, struggling against things known and unknown for survival and hope.
A mysterious plague known as the Grey grips the small village of Pilam, which the world has quarantined without pity. Laying waste to Pilam's residents, the Grey saps its victims of strength, drains the color from their eyes, and kills all promise until their last breath. Only the young are immune. But beyond the barricades and walls of soldiers—the manifestation of a nation's terror—there are rumors of a cure. Dunka, the eldest son of a family reeling from the Grey, takes on the daunting task of leaving Pilam to find that cure for his siblings and save them before it's too late.
His siblings, however, have plans of their own. Navigating the chaos of violence, hunger, and death, each of them tries to make sense of the bleak circumstances, forging new bonds with other juvenile survivors left to their own devices. Now an unlikely family of six, they choose their own perilous paths, at first separately and then together, coming to terms with the decisions they make and the ghosts they cannot leave behind.
Umar Turaki's gripping novel is a story of survival, love, and the human spirit's tenacious capacity for wonder.
Glory, Noviolet Bulawayo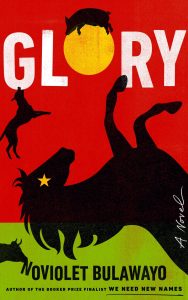 Glory centers around the unexpected fall of Old Horse, a long-serving leader of a fictional country, and the drama that follows for a rumbustious nation of animals on the path to true liberation. Inspired by the unexpected fall by coup, in November 2017, of Robert Mugabe, Zimbabwe's president of nearly four decades, Bulawayo's bold, vividly imagined novel shows a country imploding, narrated by a chorus of animal voices who unveil the ruthlessness and cold strategy required to uphold the illusion of absolute power, and the imagination and bullet-proof optimism to overthrow it completely.
Bitter, Akwaeke Emezi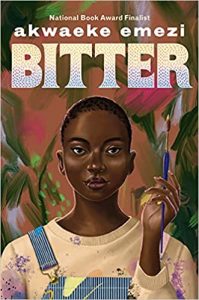 After a childhood in foster care, Bitter is thrilled to have been chosen to attend Eucalyptus, a special school where she can focus on her painting surrounded by other creative teens. But outside this haven, the streets are filled with protests against the deep injustices that grip the city of Lucille.
Bitter's instinct is to stay safe within the walls of Eucalyptus . . . but her friends aren't willing to settle for a world that's so far away from what they deserve. Pulled between old friendships, her artistic passion, and a new romance, Bitter isn't sure where she belongs—in the studio or in the streets. And if she does find a way to help the revolution while being true to who she is, she must also ask: at what cost?
This timely and riveting novel—a companion to the National Book Award finalist Pet—explores the power of youth, protest, and art.
God's Children are Little Broken Things, Arinze Ifeakandu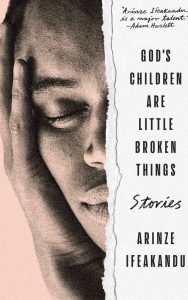 Nine exhilarating stories of queer love in contemporary Nigeria. A man revisits the university campus where he lost his first love, aware now of what he couldn't understand then. A young musician rises to fame at the price of pieces of himself, and the man who loves him. Arinze Ifeakandu explores with tenderness and grace the fundamental question of the heart: can deep love and hope be sustained in spite of the dominant expectations of society, and great adversity.
A Conspiracy of Ravens, Othuke Ominiaboh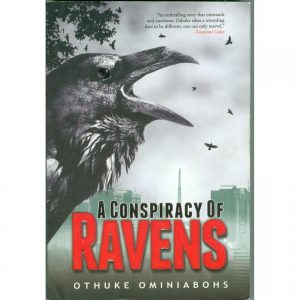 In the Niger Delta creeks of Southern Nigeria, nine expatriates are being held hostage by militants fighting for control over the resources for their land. At the same time, a series of seemingly unconnected events rock the country.
Alex Randa, a celebrated agent of the Department of State Services, with a compelling record of successes is tasked by the president to secure the release of the hostages, and to uncover the sponsors behind the militants. With nothing to go on but the phrase "Operation Raven", her instincts, and three unlikely allies, Alex quickly learns that nothing is what it seems. Together they must race against time, to save not just the hostages but a nation on the brink of a bloody civil war.
A Conspiracy of Ravens, is a deftly woven tale of love and hate, patriots and traitors, and of heroes and villains. A tour de force.
For What are Butterflies without their Wings, Troy Onyango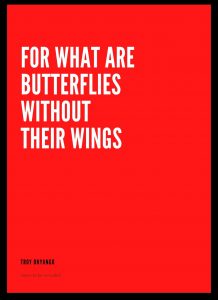 (cover to be revealed)
A collection of fourteen stories written over the course of six years. According to Onyango, in an interview with Open Country Magazine, "The stories, through the diverse cast of characters, are an exploration of loss, grief, desire/longing, loneliness and sexuality. They deal with varied subjects and portray the complexities of being human in our contemporary world." The titular story won the inaugural Nyanza Literary Festival Prize in 2016. Another story from the collection, This Little Light of Mine, was shortlisted for the 2021 AKO Caine Prize for African Writing.
People Live Here, TJ Benson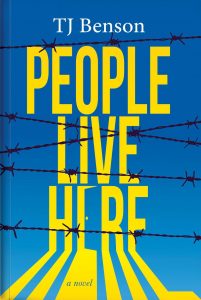 'People Live Here' is TJ Benson's third book and second novel. It follows Kanulia 'Lia' Madueke who is in pursuit of a better life for herself and her young son following the harsh economic realities of the fuel subsidy removal crises of January 2012. Lia lands a foreign-aid nursing job in war-torn Yemen and there she begins a journey of friendship, trauma and rediscovery that will bring her back to Nigeria a changed woman; one trying to root herself to the sensibilities required to survive but finding herself always drifting towards something more noble, idealistic, and possibly destructive. In 'People Live Here', you will experience the world through Lia's unforgettable, honest and fragmented mind. It is a story about what makes a person, a study of human character and a lesson in compassion.
Here Again Now, Okechukwu Nzelu
Achike Okoro feels like his life is coming together at last. His top-floor flat in Peckham is as close to home as he can imagine and after years of hard work, he's about to get his break as an actor. He's even persuaded his father, Chibuike, to move in with him, grateful to offer the man who raised him as a single parent a home of his own.
Between filming trips, Achike is snatching a few days in London with Ekene, his best friend of twenty years, the person who makes him feel whole. Achike can put the terrible things that happened behind him at last; everything is going to be alright. Maybe even better.
But after a magical night, when Achike and Ekene come within a hair's breadth of admitting their feelings for each other, a devastating event rips all three men apart. In the aftermath, it is Ekene and Chibuike who must try to rebuild. And although they have never truly understood each other, grief may bring them both the peace and happiness they've been searching for.
Tell us, which among these are you going to pick up first ?