We have our winners for the valentine writing competition and guess what? Pamela Odera Nwansoh topped up our coffers with N15,000 so instead of N80,000 we are paying out N95,000!
Here they are the four winners of N20,000 each in no specific order.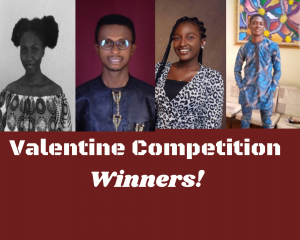 Dreams And Love by Bamikole Rhoda. It's not easy to win at the first attempt in many endeavours but this was a brilliant piece of work. Check out this line in paragraph 3: "They went from being modern-day Romeo and Juliet—from having 'God when?' comments under their picture-perfect Instagram posts— to despising each other like Tom and Daisy Buchanan of The Great Gatsby, except Daisy did not want Emeka dead, and she could only hope that the feeling was mutual from Emeka's end". You immediately get the feeling of a widely-read writer who isn't afraid to show it. If you love good prose please make sure to read this. Rhoda has announced her entry with a bang and we hope she will keep writing and improving. Congratulations!
Valentine's Day Proposal by Chukwuemeka Oluka. He who dares wins. Chukwuemeka's forte is in non-fiction and more specifically research essays on sociopolitical issues. So when we published the topics for our valentine competition, he noted that they did not reflect the changes made last year but since love conquers all he still went on to submit his entry. Now he has won with a well-presented story, told in the first person with dialogue and intrigue. He can now do more creative writing. Kudos!
A Valentine Gone Wrong by Merit Adebo. Another debutant winner. Merit's first paragraph immediately tells you that this is a promising writer. The line "Heading to the kitchen to make breakfast, she laid her eyes on the first gift Luca ever got her. A mug with the name "Luca" imprinted on it, looking back on how their love used to be, she couldn't help but recall" is a good example of the "show don't tell" maxim in fiction writing. This essay had an emotional storyline and was structured well. We hope to read more from you Merit..kudos!
Sweet Stigma by Ebube Ezeadum. Ebube is a born storyteller. This is another good essay with a touching storyline. Yet the writer still managed to infuse some witty dialogue into it. Good work Ebube and it's nice to have you back.
The next three essays will get N5,000 each as encouragement from our judge.
An Extemporaneous Valentine Proposal By Olawuni Caleb. This is the first time we will have three winning debutants in this competition. 2022 sure promises to be exciting.
The Moon Also Swims In The River by Victor Oladejo. Victor just enjoys being creative. He is one of the oldest and most consistent writers in our community. He derives joy in plotting and is one to watch out for. Well done Victor.
Valentine's Day Proposal by Oluwaseun Osanyiro. Another good narrator who always has a story to tell. Good to have you back Osanyinro and we look forward to more stories from you.
The other entries were good and feedback will be sent to the writers. We hope the writers who had their entries rejected will follow the instructions next time.
We will come up with new topics next. Thanks for all your support.