Introduction
On 2nd February 2022, The Tinder Swindler, a British true-crime documentary film was released on Netflix. The film shows in chilling and heartbreaking details the dark side of meeting strangers through online dating platforms. In the movie, Simon Leviev, a prolific conman who posed as a billionaire singleton on Tinder, hoodwinked women with his seemingly lavish lifestyle and fictional online persona before swindling millions of dollars out of them in what could be called a romance scam.
The movie which trended upon its release elicited diverse reactions from viewers. While some lamented the dangers posed by online dating sites as an all-effective tool of seduction and deception, others were rather critical of the gullibility of victims of online dating scams. However, it is noteworthy that these fraudsters employ manipulative and coercive tactics that impair the shrewdness of their victims, leaving them susceptible.
Online dating, which was once a fringe activity, seems to be gaining prominence. There were about 270 million global users of online dating apps in 2020, which is significantly higher than the 250 million users in 2019 [1]. Just like every country in the world, Nigeria is gradually embracing the internet as a means of finding love or a romantic relationship. Online dating, however, does not come without its consequences, which could be favorable or adverse. It is therefore pertinent to look beyond the hullabaloo that accompanied The Tinder Swindler film and critically appraise the issue around online dating in Nigeria.
The Concept Of Online Dating
Technology has revolutionized our today's world. Devices and machines which are aimed at making life easier have been invented. This has invariably changed our approach towards some life's events. Before now, dating was heavily reliant on physical proximity. However, with the advent of computers and the internet, virtual platforms have been created which have become one of the major sources of initiating a romantic relationship. According to Oxford Languages, online dating is the practice of searching for a romantic or sexual partner on the internet, typically via a dedicated website [2].
Courtesy of online dating apps and sites, the process of finding a date has been facilitated, with people simply required to swipe left or right to find date matches. Dating websites could be used for many reasons such as hookups, meeting new friends, and finding love. Such dating sites include Tinder, Bumble, harmony, Badoo, OkCupid among many others. Other social media platforms such as Facebook, Twitter, and Instagram which are not mainly for dating purposes have also been useful in this regard.
As a fast-growing means of finding love, more Nigerians are becoming accustomed to online dating. Consequently, online dating sites which are peculiar to Nigerians have been developed. Some of the Nigeria-based dating sites include Naijaplanet and Friendlite. It is interesting to note that online dating is now being encouraged by the usually strict religious bodies in Nigeria. Many Nigerians were left bewildered when the Redeemed Christian Church of God (RCCG), in December 2021, launched an online Christain dating platform for mature singles [3]. It is common knowledge that any initiative that breaks the moral borders of religion in Nigeria has a better chance of permeating the country and coming to fruition. Hence, it is safe to say that online dating has come to stay in the country.
Why Online Dating? 
The outbreak of coronavirus greatly affected social interactions, with many countries enforcing a stay-at-home order. People who were craving for human connection resorted to online dating to initiate a virtual relationship. To an extent, this ameliorated the frustration of social isolation which resulted from staying indoors.
Recent studies reveal that couples who met online have better chances of finding true love [4]. They are also happier in their relationship and have lower divorce rates than people who met through any other means. This might be because online dating gives a glimpse of the personality of one's prospective romantic partner before you meet them.
One of the major benefits of online dating is that it widens the pool of available persons to select from. Dating sites have built-in algorithms that help to find prospective romantic partners based on one's preferences, interests, and likes. It also opens dating opportunities beyond one's geographical location thereby enabling interracial relationships and marriages. In 2018, an English man, Micky, traveled down to Nigeria and wedded his wife, Faith, who he met via the internet [5]. This wouldn't have been possible without online dating.
Human beings are distinguished by idiosyncrasy. What one person enjoys doing, another person might find it difficult. The truth is, those who are starkly introverted find the traditional means of meeting people uneasy. To them, the idea of going on a date can be terrifying. Such persons are usually engrossed by how to behave, what to say, and such other worries. According to a study, introverts make up about 30-50 percent of the global population [6]. Although there are no statistics for introverts in Nigeria, it is estimated that a lot of Nigerians exhibit introversion. Thankfully, online dating has provided such persons with the opportunity to explore the dating world without fear of moments of embarrassment and awkwardness.
The famous quote, "How it started vs How it is going", is a social media term usually used by lovebirds to describe how they met on the internet and the successful trajectory their relationship has taken. Stories of online dating growing into a serious and lasting relationship have always made the rounds on social media. There is no gainsaying that many married Nigerian celebrities struck the matchstick of love on social media. Popular media personality, Ebuka Obi-Uchendu, and his wife got to know each other on Twitter. Similarly, popular musician, Simi, while in a 2019 interview with Ndani TV, said she met her husband, Adekunle Gold, on Facebook after which they had their first meeting at a show headlined in Lagos [7].
The Problems Of Online Dating
Online dating is not without its downsides even in Nigeria. Online dating apps are often used by fraudsters to spread malware and retrieve personal data. According to a study by Techshielder, Nigeria is reported to be the second most notorious country in the world with an online romance scam amounting to a staggering 16.4 million dollars in the year 2020 [8]. The unscrupulous activities of these fraudsters have put the country in a bad light and have dented the good image of Nigeria.
Just recently, Eight Nigerian men accused of internet dating scams appeared in a South African court after a massive international operation involving the FBI and Interpol [9]. The alleged fraudsters were accused of defrauding more than 100 victims of almost 7 million dollars over the past decade. Their usual ploy involved looking for potential victims on dating sites, ingratiating themselves with their unsuspecting victims who are mostly vulnerable widows or divorcees, before concocting stories that helped them siphon money from their victims.
Similarly, a 25-year-old man, Godwin David, was arrested by the police for luring women on dating sites to hotels in Abuja where he offer them drinks laced with drugs. When the victims fell asleep, he raped them, took their cash, stole their mobile phones, and other valuables on them [10].
The activities of these conmen are regrettably reaching an unprecedented height. A report shows that an American woman, Tawanda Jackson, was lured to Nigeria by one Matthew Adedoyin via a dating site. She was kidnapped and raped severally by the fraudster before being rescued by the operatives of the Department of State Services, DSS [11].
Although women are predominantly the victims of online dating scams, men are not completely invulnerable to the scourge of this menace. In February 2021, members of a five-man gang of kidnappers — which included a lady — confessed to having lured and killed their victim, Michael Victor, through online dating using Tinder [12]. Also, Shola Olaseinde and Progress Benin Disi, a worker with Shell Oil Services Company were lured and murdered using the same methodology.
Teenagers are also targets of predators who use online dating sites as their playground for perpetrating awful forms of vices. In March 2021, a Lisbon teen, Shylynn Dixon, took her own life, leaving behind a note which explained that she was tricked by a blackmailer online. Another report shows that the rate of teenage girls who reported online-related sexual assaults has nearly doubled.
The Way Forward 
Despite the dangers online dating poses, it remains an amazing initiative that is gradually replacing the old-fashioned means of finding prospective love partners. Hence, Nigerians must take full advantage of it while avoiding being victims of online dating scams.
Upon registration on dating sites, one must avoid giving out useful and sensitive information to anyone. Information such as email, phone number, date of birth, should be confidential.
Also, Nigerians should normalize stalking their online dates on important social platforms such as LinkedIn. This should be one of the mandatory steps for verifying such a person's information.
Nigerians who are users of online dating sites should endeavor to restrict communication to the site. This is because it is easier to discover the activities of scammers on such sites. In addition, users should block with reckless abandon any account they find suspicious.
Furthermore, Nigerians should be wary of where they meet their online dates. Meetings must be in an open and remote location where it would be difficult for crime to be perpetrated.
There should be a nationwide campaign to sensitize Nigerians on the pros and cons of online dating. This is very important because many victims of online dating scams blamed their naivety for their ordeal.
Finally, relevant authorities must ensure that those involved in online dating scams are apprehended and severally punished. This will serve as a deterrent to other Nigerians.
Conclusion
Online dating is like the new Sherrif in the dating world. It is only right that Nigerians understand its concept, benefits, dangers, and the necessary precautions to take. Hopefully, we would start seeing more of the "How it started vs How it's going" posts on social media. Who knows?
References
[1]
https://www.businessofapps.com/data/dating-app-market/
[2]
https://languages.oup.com/google-dictionary-en/
[3]
https://tribuneonlineng.com/rccg-launches-online-dating-site/
[4]
https://www.mondaq.com/nigeria/social-media/1109154/dating-and-romance-scams-in-nigeria-all-you-need-to-know
[5]
https://www.nairaland.com/3389155/nigerian-lady-weds-uk-man
[6]
https://introvertdear.com/news/there-might-not-be-as-many-extroverts-in-the-world-as-we-think-science-says/
[7]
https://www.google.com/amp/s/allnews.ng/amp/news/married-nigerian-celebrities-who-struck-matchstick-of-love-on-social-media
[8]
http://saharareporters.com/2021/09/07/nigeria-ranks-second-countries-romance-scam-1129-reports-168million-fraud
[9]
https://www.google.com/amp/s/www.independent.co.uk/news/world/americas/women-target-romance-scam-fbi-b1942924.html%3famp
[10]
https://www.google.com/amp/s/www.vanguardngr.com/2019/08/how-i-drug-rape-rob-women-i-meet-on-social-media/amp/
[11]
https://www.vanguardngr.com/2018/11/dss-rescues-woman-lured-to-nigeria-kidnapped-by-fake-prince/
[12]
https://independent.ng/revealed-how-kidnappers-lure-kill-victims-through-online-dating/
About the writer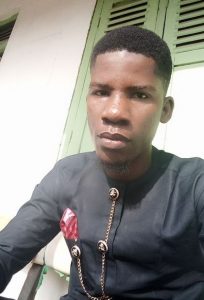 OGBONNAYA MICHAEL is a graduate of mechanical engineering from the Federal University of Technology Owerri. He is a creative writer who tries to tackle societal problems with his writing.