Hello everybody, I've received loads of reactions to our scheduled Talkshop. I appreciate each and every response. This is a baby step that will be a bigfoot when we look back years from now. The support has been amazing from day 1 and I'm not surprised at all. The comments have been encouraging and hilarious. I couldn't have been blessed with better friends!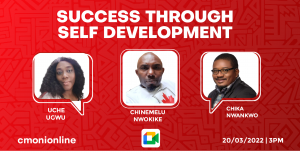 MOG Onochie wants pastors included in the programme for ministration purposes while Governor Posha Ajamekwe wants to be our guest during his guber campaign next year. It's all good and fine. We are here to interact, learn and unlearn. And like I always say, knowledge can be acquired outside the traditional academic environment through digital tools and methods.
I know we love discussing current affairs, especially politics. In fact, we overindulge in this. We spend way too much time arguing that it becomes a waste. But I also know that many of us want to do less of that in order to have time for things that matter more. It is not easy though. I know because I've been struggling with it too. The good news is that it is doable and its a win-win situation. Yes, by taking up other activities like reading, writing, listening to music, jogging, and of course engaging in some other topics like what we are doing here. We win by reducing the time we spend on political discourse. And then win again by picking self-development habits.
So we welcome the diverse reactions and interests, let's bring them on. Robust discourse is usually a hybrid of the formal and informal. And our speakers Uche Ugwu and Chika Nwankwo are experienced pedagogues in their own right. I have no doubt it will be an interesting session where we will gain useful insight on achieving success through self-development.
One final thing; Remember that our overarching objective is to enhance productivity, especially among the youths. And one way to do this is to support each other in our various business and social endeavours. So please if we see another's effort, like, share, engage or patronise. These are all forms of support and if you have any skill, knowledge, experience that you will like to share with us, kindly reach out and we will be more than happy to work with you. For instance, a tailor or caterer may wish to give us tips on the business by sharing their experience, the struggles and the wins. From there they can start leading a tribe/group. All you need is just one person willing to engage your content and the journey begins. And we have sponsors waiting in the wings to support what we are doing. Just BELIEVE!
The instructions on how to join the Talkshop via Google Meet is in the last paragraph of the previous post. There is no requirement to register, just click on the link and you are in!
Thanks a lot and Jah bless!