If you are on social media, and you are not learning, not laughing, not being inspired or not networking, then you are using it wrong. ~ Germany Kent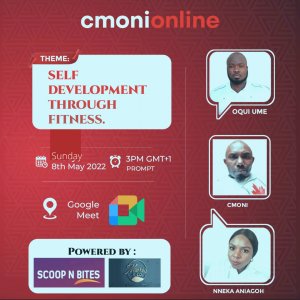 We are excited to announce our next Talkshop themed: Self Development Through Fitness. Of course, know the importance of keeping fit so this will benefit us and it promises to be informative as we have two brilliant speakers lined up. Oqui Ume is a construction equipment exporter & the co-founder of BritQui Fitness while Nneka Aniagoh is a communication strategist and fitness enthusiast. Both are fitness stars with years of experience.
So join us on 08/05/2022 by 15:00 hrs Lagos time let's have fun while learning. Watch the instructions on how to join the Talkshop via Google Meet below and click HERE to join on the day.
After the last Talkshop, we sponsored the training of 5 young attendees in graphic design, thanks to Chief Otonsi Nri all the way from New Jersey. We continue to receive support so we are exploring the possibility of partnering with the Nigerian SME Digital Academy on future training as more youths have shown their interest in acquiring digital skills.
As I wrote previously, what we are doing is simple. We are building digital communities for knowledge and skill acquisition through collaborative learning. There is no rocket science required here because we all have something beneficial to share. So if you will like to share skills/experiences or to support what we are doing please reach us through our social media handles or admin@cmonionline.com.
We thank Scoop n Bites the chef and event planning guru and Newross & Co your affordable luxury fashion outlet for sponsoring this event.