The boxes in the house were so huge, we had done a lot of unboxing and still, we had a lot more to do. But there was this particular box I had my eyes fixed on all through the time. This happened to be the best boxing day celebration I had ever been a part of, and to cap it was a nice parcel containing my favourite beverage—Mountain Dew. My uncle realized how much I loved the drink and he thought it best to buy me two packs of it on boxing day, but what he didn't know was that I was planning on cutting down my carbonated drink intake for the new year.
The top of my resolutions for the year was to do just that, I had seemingly found myself in a sort of obsession with the drink and it was high time I cut down its consumption to the barest minimum, in my best interest. This decision wasn't one I took solely rather it was influenced by a checkup we'd went for earlier in the year.
On the fateful day, we had all walked into the doctor's office to have our biannual medical check-up. We needed it to enable us to head out to the United States for our summer trip. Every one of my 3 siblings had done the checkup, my parents also, then it was my turn. I walked into the office to give some samples and in no time I was done. Characteristically, we were expecting the doctor to come out to pass all of us as healthy and hand over a clean bill to us, but there was a different taste to it this time.
He came out and looked at us with a smirk on his face, he proceeded to drop his glasses a little bit lower, allowing it to rest on the bridge of his nose, before calling out my name. In his words, "Favour,  I know you to be a healthy boy, but what went wrong?" At this point I became startled, my mind was running to and fro trying to decipher what had gone wrong.
"I am not obese, I drink water a lot, I exercise a lot, what could have gone wrong?" His baritone voice soon jolted me out of my thoughts as he continued with his speech. "You are beginning to develop a high blood sugar level which is rather unusual for your age, what drinks have you been taking recently."
" Mountain Dew" was the unanimous echo of my siblings and my parents. With the unison of their voices, one would think they were echoing in a form of friendly agreement, but that was not the case. To them, it was an avenue to spite me for my incessant consumption of the drink, one that they had always wanted to do.
He then advised that I cut down on it and continue with my exercises and my regular water intake as I had claimed. My parents soon swung into action to implement that. But little did they know that the box handed over to me by my uncle contained not one but two packs of mountain dew.
Being in charge of sorting out the boxes, I soon saw it and I had to keep it away from my parents, my mum in particular. I then proceeded to sort out all other boxes after which each person decided on what to take and on what to then give out. Boxing Day made sense now and we had a blast celebrating. Then we proceeded to the yearly ritual of writing resolutions for the new year, and my dedication to cutting down on my mountain dew intake came first and true to my word I did maintain my commitment to it, albeit for two weeks only.
I had hidden the packs of mountain dew in one of the closets in my room, it was a sort of a secret armoury where I kept things away from my parents and siblings, well tucked away at a tangent in my room. On coming back after a hectic day, my mind suddenly picked up the thought of having a gulp of the drink. I was literally in a battle between my desire to satisfy my immediate craving and to keep my blood sugar level moderate and healthy.
Peering through the house, I happened to be all alone at home and I thought to myself "A bottle won't hurt at all". In hesitation, I gulped down the whole bottle while consuming a pack of chips I had bought en route my way home. In all this, I felt a bittersweet feeling, I felt relieved to have tasted it after a while but also I felt bad to have broken my resolution just two weeks into the year.
I advise anyone who wants to keep up with a resolution to make away with anything or anyone who could tempt one to go back on the resolution. But as I said before gulping it down my throat — I can't kill myself.
About the Writer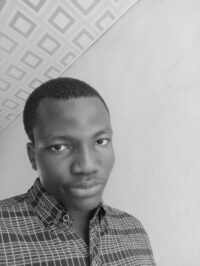 Amoye Favour, a student of Obafemi Awolowo University, is a poet and copywriter whose writings (mostly poetry) have been published in so many literary magazines such as Literatus issue.