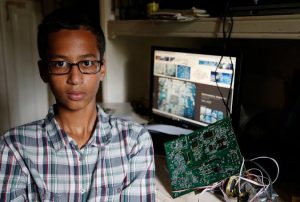 On this day: in history (2015),  Police in Texas announced they will not file charges against Ahmed Mohamed, a 14-year-old Muslim high school student who was arrested after he brought in a homemade clock that a teacher said looked like a bomb.
The episode arose when Mohamed reassembled the parts of a digital clock in an 8-inch pencil container and brought it to school to show his teachers. His English teacher thought the device resembled a bomb, confiscated it, and reported him to the principal. The local police were called. He was handcuffed, taken into custody without permission to see his parents, and transported to a juvenile detention facility, where he was fingerprinted and a mug shot photograph was taken. He was then released to his parents. According to local police, the reason for his arrest was because they initially suspected he may have purposely caused a bomb scare. Mohamed was also suspended from school.
News of the incident went viral starting with Twitter, and as close to a million people sent out tweets with the supportive hashtag #IstandwithAhmed in less than 24 hours. Mohamed opened his own Twitter account @IStandWithAhmed in the morning of September 16 and had more than 37,000 followers by the afternoon. Many alleged that the actions of the school officials and police were due to their stereotyping of Mohamed based on his Sudanese ancestry and Muslim faith.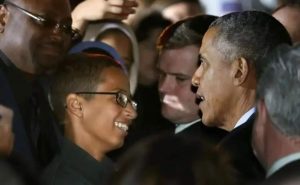 Mohamed also received support from President Barack Obama, Hillary Clinton, and Mark Zuckerberg. Zuckerberg invited Mohamed to Facebook headquarters. Mohamed and his family were also invited to the White House for its annual Astronomy Night.
In October 2015, the family decided to move to Qatar, where Mohamed continued his education in the capital city Doha with a scholarship from the Qatar Foundation for Education.
#history #myhistorydiary #texas #qatar #nigeria
Created by Okey Obiabunmo