On This Day: 1955 John Grisham, the best-selling author was born in Jonesboro, Arkansas. He is an American novelist and lawyer. According to the American Academy of Achievement, Grisham has written 28 consecutive number-one bestsellers, and his books have sold 300 million copies worldwide. Along with Tom Clancy and J. K. Rowling, Grisham is one of only three authors to have sold two million copies on a first printing.
The son of a construction worker and a homemaker. As a child, he wanted to be a baseball player. As noted in the foreword to Calico Joe, Grisham gave up playing baseball at the age of 18, after a game in which a pitcher aimed a beanball at him, and narrowly missed doing the young Grisham grave harm. He graduated from Mississippi State University with a degree in accounting in 1977. He went on to attend law school at the University of Mississippi, earning a degree in 1981. Grisham spent nearly 10 years as an attorney with a Southaven, Mississippi, firm, and also served in the Mississippi House of Representatives from 1983 to 1990.
Grisham's first novel, A Time to Kill, was published in June 1989, four years after he began writing it. Grisham's first bestseller, The Firm, sold more than seven million copies. The book was adapted into a 1993 feature film of the same name, starring Tom Cruise, and a 2012 TV series. Eight of his other novels have also been adapted into films: The Chamber, The Client, A Painted House, The Pelican Brief, The Rainmaker, The Runaway Jury, Skipping Christmas, and A Time to Kill.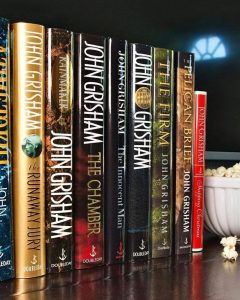 #myhistorydiary #history #novel #books @johngrisham
Created by Okey Obiabunmo