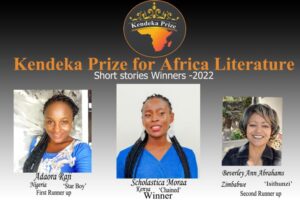 The winner of the 2022 Kendeka Prize for African Literature, announced on September 24, is Scholastica Moraa (Kenya) for her short story titled "Chained". In a statement during the ceremony, Adaora Raji (Nigeria) was announced the first runner-up for her story "Star Boy", while Beverley Ann Abrahams (Zimbabwe) was the second runner-up for her short story "Isithunzi".
The winning stories were chosen after a rigorous process by a panel of three Judges chaired by Dr. Siphiwo Mahala, from South Africa. Also in the panel were Bisi Adjapon from Ghana and Faith Oneya from Kenya. In their statement, the judges stated, "Each and every writer who put their ideas on paper and submitted their story for consideration in this prize adds a unique voice to the African literary tradition. The wide range of themes, narrative styles and imagery tells of a continent undergoing a literary revolution. Scholars might not have coined a suitable name for it as yet, but these new voices are redefining the African literary tradition in their own terms."
The winner, Moraa is a Kenyan author and poet. She is a graduate from Jaramogi University with a Bsc in actuarial science. She is the author of a collection of poems titled Beautiful Mess. Her short story "6 days to twenty" was longlisted in the Kendeka Prize for African Literature 2021. When she is not writing, she is deeply immersed in a novel or two. She loves travelling, making new friends, learning new languages and overthinking.
The Kendeka Prize for African Literature is an initiative by Andrew Maina, a Kenyan writer whose aim is to encourage Africans to write, and read more. The winner of the 2021 Prize was Jenny Robson (Botswana) for her story, Water For Wine. Fatima Okhousami (Nigeria) was the first runner-up for her story, The Women of Atinga House, while Okpanachi Irene Ojochegbe (Nigeria) was the second runner-up for her short story, Au Pair.
The Prize is run by an Advisory Board chaired by James Murua. Other members are Dr. Tom Odhiambo, Muthoni wa Gichuru, Mercy Kiragu, Patrick Gatobu, William Mureithi, Lucas Wafula and Andrew Maina.
The winners of the 2022 prize were announced during the award ceremony held in the TAS TV studios in Thika. The overall winner will receive Kshs 100,000, while the second and the third prizes are Kshs 50,000 and 25,000, respectively.
Congratulations to them.