Dear readers,
After a long period of reading and appraising the varied entries we received for the #Week49 Essay Competition, we have arrived at a list of winners of the N60,000 cash prize. This week, the entries were all too spectacular, presenting any three-to-name winners proved such a difficult task. However, with the peer selection from the entrants themselves, we were able to make a final selection, and have narrowed down the list to a total of six winners. This is an effort to appreciate the writers, and inspire them to keep up their writing game.
The winners of our #Week48 Essay and Creative Writing Competition are:
The winning essays based on nominations:
1. Peace Habila, Tale of a Budding Writer: The Blessing and the Curse
2. Collins Undelikwo, How Stories Stay Alive
3. Ekoja Solomon, How Macleans Ignited My Writing Potential
4. Oluka Chukwuemeka, Chronicles of an Apprentice Writer
5. Ojetunde Esther, Writing: A Skill for the Gods?
6. Ebube Ezeadum, My Journey and the Pen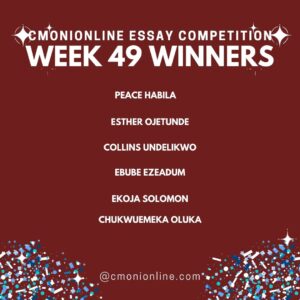 This is closely the best week we've judged so far. All the entries had, in each of them, a unique grasp on the subject, an admirable demonstration of their individual talents. We are immensely proud of this devotion and wish to sincerely congratulate each and every writer that has participated in this week's competition.
Congratulations to all!