I saved this photo of Chief Chimamanda Ngozi Adichie since the day she was confered with the chieftaincy title, Odeluwa Abba.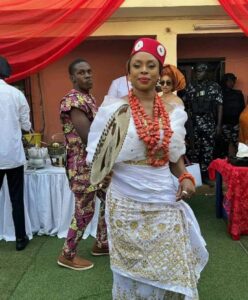 I had since wanted to add my voice to the eulogies but merely writing "Congratulations Ichie Odeluwa nke mbu n' Abba" would have been lame and as you know, "I don't do regular".
Infact, aunty Chi wouldn't forgive me if I only wrote that. I know!
So this morning, an article I shared on Facebook exactly two years ago popped up on my timeline and as I read through, my creative juice started popping sweetly.
I wrote the article in question shortly after Chimamanda revealed why she stopped attending the Catholic Church in Nigeria.
She cited too much fundraising and money talk as her reason.
And truly, not a few of us are on that very table. But na suffering and smiling tins.
For speaking up for us though, the parish priest at her village church did the unthinkable.
On the solemn occasion of her late mother's outing service, the priest stood on the altar and thoroughly embarrassed the globally acclaimed author before the entire congregation for daring to speak her truth.
"O gwakasili ya aru, eziokwu".
But, WHY EMBARRASS CHIMAMANDA when all she did was be the voice of average people who sometimes go hungry because they emptied their pockets in church?
For real life reference, my neighbor in church once cried out over frequent calls for offering in a hilarious yet thought provoking manner.
He said, "ndi uka sef, unu ga eji uzo di iche iche kapucha mmadu ego niile di ya n'akpa".
Smiling, he displayed the remaining two N500 notes left with him as the church warden approached to collect money.
"I think it's better not to come to church with cash anymore," the man told the church warden.
"We also have POS", the church warden responded smiling.
Both men laughed it off.
Sadly, it's the same pattern in most churches.
Personally, I came to a point where I am never under compulsion to give neither do I give grudgingly just to save face.
Which face am I saving?
The person who's unashamedly forcing another to give should take the shame, not me for Pete's sake.
Ah ah!
The last time a lady tried it with me, I made sure that she will never try it again.
Must I buy harvest magazine just because they gave you a target?
No, it's your problem and not mine.
What really irked me was the way she made it seem like her right saying, "but it's just N500".
"Aunty, you are a banker na. Pay for it and distribute to us free of charge then."
Well, the church reserves the right to announce needs and sell stuff but compelling people to comply is unholy. The force element must not be inferred or expressed.
For all that she went through just to speak up for us on this matter, Chimamanda deserves the additional title of 'Okwuluwa'.
Shine on, nnukwu Ada Anambra.
Congratulations Ichie Odeluwa nke mbu n' Abba.