Plus
FREE

Graphic Design Course For 10 Attendees.

In a few years, there will be half a trillion dollars for the taking by content creators. Goldman Sachs recently predicted that as the ecosystem grows, the total addressable market of the creator economy could roughly double in size over the next five years to $480 billion by 2027 from $250 billion today.

Now we know that oftentimes writing doesn't pay the bills. Many successful authors had to juggle between work and writing. Some even worked multiple jobs to make ends meet while still doing the craft they love. So it is normal that writers are asked to earn through other means even as they push the pen.

Yet getting a job let alone a well paying one can be more arduous than writing itself. But that was then because thankfully the affordances of the digital era are innumerable and the burgeoning creator economy adds to the rich tapestry of the writer's life. Smart people with digital skills are earning good incomes by leveraging social media. This is why I never stop writing about the need to acquire these skills.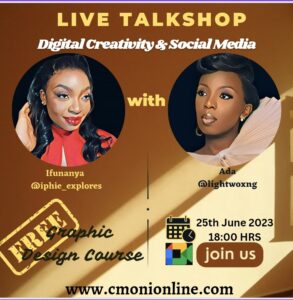 So in line with this, we will have a Talkshop on Sunday, June 25th, 2023.
This time we are delighted to have two enthusiastic content creators Ada @lightwoxng and Ifunanya @iphie_explores as guest speakers. They will share their thoughts on digital creativity and social media.
In the past, we trained 5 people in Graphic Design and this time we have decided to double the figure. Attending this session and training in graphic design will definitely give you the foundation to start creating and added to your writing skill its fair to say that the sky will be your beginning. Why do I say this? Because writing is the mother of all creation and in this internet era, content rules!
So why not join us via Google Meet to discuss Digital Creativity & Social Media
on Sunday, 25 June · 6:00 pm
Video call link: https://meet.google.com/nty-inoc-scq
It's IMPORTANT to know that attending the Talkshop is part of the criteria for choosing 10 beneficiaries of the FREE Graphic Design course.