A couple of takeaways got me excited at the just concluded South-East Governors meeting.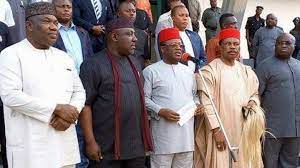 The first was the seeming resolution of differences between governors Rochas Okorocha and Willie Obiano going by the warm and friendly manner they greeted each other. Recall that the duo had recently engaged is a needless war of words.
The second was part of the forum chairman's statement at the end of the meeting. Governor Umahi had divulged that they discussed the economic integration of the region with a mandate to the relevant state commissioners to formulate a plan on how to actualise the new initiative.
There is cause for every Igbo man to be optimistic because it is a consensus opinion that if our elected leaders perform well the South East will surpass every other part of Africa in terms of development. I am from Anambra state, where we have witnessed improved governance since Nigige defied the cabal of sleazy Godfathers. I am certain it must have been shocking to many to learn that our governors have not met since 2014, much as this meeting should have held long ago with regular follow ups at say every quarter it is still not too late to start from here.
So moving forward, it is expected that Okorocha and Obiano will go back and issue stern warnings to their political aides and spokespersons to desist from further statements capable of causing disharmony. 
Discussing this with a friend earlier I had wondered why the belligerent Fayose in all his attacks against the APC led federal govt never for once castigated any of his South West colleagues? As a matter of fact when stories made the rounds that Tinubu has been sidelined by the presidency he issued a statement and declared that any insult on Asiwaju was an insult to Yoruba people. And when Senator Buruji Kashamu castigated his emergence as the leader of PDP governors forum he politely declined to join issues with him in an interview I watched.
I am also of the opinion that what is happening in Anambra Central Senatorial Zone will rarely happen in the South West. For over a year now our senate seat has remained vacant due to the perennial tussle between Peter Obi and Victor Umeh. In Yoruba land, elders would have long resolved the matter for the benefit of the masses. 
In a previous article I had stated that while the Igbos have neither a dogmatic religion nor a ranking tradition to foster a much-needed unity, it will nevertheless be a political bonus to our illustrious nature if we imbibe respect for elders and loyalty as a virtue. That is why it has always been my fervent prayer that Obiano reaches out more to his predecessor former governor Peter Obi.
 Of course, some will say he shouldn't, that it will be misinterpreted as seeking patronage only because he wants to be re-elected. To this school of thought, I say the end justifies the means. If my governor reconciles with his benefactor and gets re-elected at the same time he would have killed two birds with a stone. It will be particularly good for my senatorial zone and Ndi Anambra in general.
The issue of economic integration among South East states has become very necessary. I say this because looking at the way states like Enugu and Anambra have continued on a path of steady progress while Abia has been regressing, one is left to wonder if more could not have been achieved if its govt had been collaborating with her better-run sister states.
I was born in Enugu and raised between Enugu and Abia. I remember my days of growing in Aba back in the 80s. Enyimba city back then was what you can rightly describe as the typical Igbo man's dream town. It had a balanced mix in its busy yet relaxed ambience. 
Right at the end of my station avenue residence in the GRA was the railway station, intermittently busy when the trains arrive and calm soon after they depart. The industrial and commercial areas boasted of major industries, multinationals and markets like PZ, Lever Brothers, UAC, UTC and Ariaria to mention just a few. 
Extracurricular activities over the weekend were also not lacking, who would believe that Aba once had a functional sports club, about 3 cinemas, many hotels and even a golf course!
Back then Enugu was regarded as the civil servant's town inhabited by salary earners who lived in flats and drove in old Peugeot cars with East Central states number plates. Aba had a mix of wealthy businessmen, industrialists and civil servants. A flat in Aba then could fetch N2500 rent compared to N1000 in Enugu. 
Two governors down the line both towns now have different stories. The good work started by Chimaroke was amplified by Sullivan Chime while Theodore Orji took Abia from Orji Uzor Kalu's frying pan to fire. Now Enugu properties are competing in value with those of Abuja while you hardly have any serious businessman looking to invest in Aba.
Ours is a region blessed with abundant natural resources like oil, coal, zinc, limestone, salt and much more which remain largely untapped. The necessary requirements are also there, we have human resources, capital and most importantly entrepreneurial spirit. What is lacking is the vision and platform. So beyond the promise to formulate a blueprint, I will suggest that an umbrella corporation similar to the Oodua investment group should be created to facilitate the initiative. 
Finally, I will like to see our governors prioritise ridding the region of the repugnant non-indigene syndrome. My heart bled at the reported sacking of non-indigene civil servants by Abia state govt back in 2011. It was a dark moment in the state's history. Every Igbo man should feel at home to work and reside in any South East state, such integration is very essential if we are to achieve our long-term political objectives.