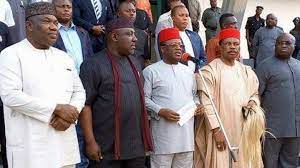 The President General of Ohaneze Ndi Igbo, Chief Nnia Nwodo, has expressed optimism as Governors from the South-East region met in Enugu today. He commended the governors on their synergy and solidarity saying that such tonic was very essential for regional integration and progress. He said that one of the promises made by Ohaneze Ndi Igbo has been fulfilled as the governors were meeting for the first time since the 2015 general elections.
Speaking to newsmen after the meeting he said, "I came to congratulate them for their synergy and their new found solidarity and the resurgence of that solidarity. "I have promised that whatever misgivings they have between them is a storm in the tea cup and is grossly exaggerated and you can see that happening now", adding that there were speculations over the past few years that all is not well in the region due to the inability of the governors to meet, he however explained that there were no real issues except that they have been finding it difficult to meet. 
He went on to say that "The headquarters of Ohaneze is in Enugu and it is only courteous that as the president general, I should come and greet them and brief them about our activities as well as wish them well in their deliberations. "All five of them are here. Nobody is represented by the deputy. They are in serious deliberation and I am grateful to God that this is happening". "I am infused that within two months of my coming into office they are back on the saddle, united and in total solidarity addressing the problems affecting us as a geographical region," Nwodo said. 
The governors also elected Governor Dave Umahi of Ebonyi state as its new Chairman at the meeting which was hosted by Governor Ugwuanyi at Lion Building Enugu. Governor Ikpeazu of Abia state who announced this said that it was the turn of Ebonyi as Abia and Anambra had earlier taken their turns.
He said, "I want to specially recognise the oldest members of this forum, Gov. Rochas Okorocha of Imo and Gov. Willie Obiano of Anambra. "We have just risen from a meeting and it is my pleasure to officially introduce the chairman of the South-East Governors' Forum in the person of Gov. Dave Umahi. "He is our chairman today because Anambra and Abia have taken their turns in the past and we are moving forward from Ebonyi flank at this moment," Ikpeazu said.
Umahi said he was honoured to lead the forum despite the fact that he might not be the most qualified. "I want to thank my brother governors and to accept the leadership position my colleagues have pushed on me. "Not being the most qualified but they decided that I should be the chairman of the forum at a time like this. I want to thank them with all sense of humility".
The meeting was attended by all the 5 governors themselves unlike previously when they sent their deputies as representatives.
Source: NAN