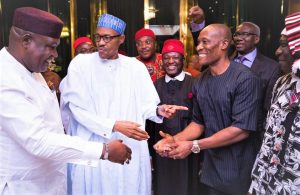 President Muhammadu Buhari has reassured stakeholders from the South East of his administration's commitment to providing more roads and coastal rail projects, which are of critical importance to the economy in the region.
This was disclosed during a meeting with leaders from the region led by the Deputy Senate President Ike Ekweremadu, the President declared that the 2nd Niger Bridge, the East-West Road, and the Coastal rail project, are receiving maximum attention from his administration.
He said: "I know the Chinese are very competent in handling such projects and we will ensure that we get the money for the projects to take off.
"I thank you for articulating your demands and I want to assure that we are doing our best for the country. If we can stop people from stealing, then there will be more resources to put into projects that will create employment for Nigerians".
President Buhari also debunked allegations of under-representation of in his government, he explained: " I gave south-east four substantive ministers in the ministries of Foreign Affairs, Trade and Investment, Science and Technology and Labour.
"Seven states in the North got Ministers of State and of the two Ministries headed by your sons, I cannot take any decision on foreign policy and investments without their input,'' he said.
The President also promised to visit states in the zone soon.
"I want to assure you that I came into government with a clear conscience and I will also leave with a clear conscience,'' he said.
The stakeholders which comprised of governors and ministers from the region, the President of Ohaneze, Chief Nnia Nwodo and representatives from the National Assembly had presented the demands of the zone to the President. Speaking on the need for an improved federal presence in the zone Chief Nnia Nwodo mentioned the issue of state creation, restructuring, federal projects in the South East namely Enugu-Onitsha road, Enugu-Port Harcourt road and Aba-Ikot-Ekpene road, among others.
Nwodo also harped on urgent presidential interventions on the Enugu Airport, reticulation of the gas-pipelines in the South East and the standard gauge plan for railway construction.
Commending the President's remarkable achievements on security and the fight against corruption, He declared: "we are ready to work with you. We are determined to work with you. We know you are a decisive leader and we know God will continue to give you the wisdom to govern Nigeria.''
Also speaking, Governor Dave Umahi of Ebonyi State who is the Chairman of the South East Governors Forum said they were satisfied with the fruitful discussions on important issues affecting the region.
"You have no hatred for any state. You have treated all states with equality. What one state gets in the north, the other gets in the south,'' the governor said, referring to budget support facility and stabilisation fund released to states and local governments since the inception of the administration.
Source: NAN