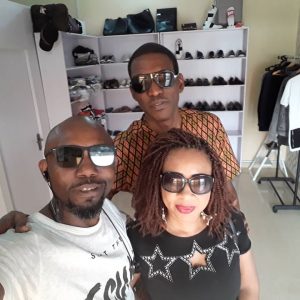 I had read in one novel while growing up that a person is often distinguished by accessories. I was fascinated by this statement and while pondering it over I realized that these items are really the ones that we own the fewest. Ever since then I fell in love with accessories specifically wristwatches, sunglasses, and belts. I strived to own a few ostentatious ones that will stand out in any gathering.
They are assets too because unlike clothing which depreciates in value, good accessories can retain their value or even appreciate in some cases. I learned this from a friend who is a watch freak. I once sold my £600 TAG Heuer for £800 after owning it for 5 years. I still bought the same watch for €480 on eBay in 2006. It is lying beside a £10k Cartier Balon Bleu and a £2k vintage Gucci Reptile Band Watch. They are articles of ostentation I know but they hold a value that may come in handy during times of drought.
So it wasn't accidental that I began with wristwatches when I decided to start a small business that will cover the cost of my frequent travels to Nigeria while living in the UK back in 2011. Or so I thought then.
I registered Newross & Co with the Companies House UK and was able to secure a small overdraft of £2000 from Santander Bank. I started with about 30 watches and a few used phones. Initially, I was marketing on Blackberry and later on WhatsApp to friends mainly. I later extended it offline with 3 friends/marketers in Lagos, Enugu, and Port Harcourt. By 2012 I resolved to bring in a batch every quarter and by 2013/2014 the quantity had grown to over 100 items/quarter as I had included gadgets like Bluetooth speakers and other lifestyle accessories.
In the Q4 of 2014, it peaked at 150 items, and then came the recession in 2015. That year I only imported 2 batches. By 2016/2017 I didn't import a single item as there was little demand for non-consumables, people had to eat first and forex was practically out of reach.
I was undaunted though. My long experience in the petroleum business had taught me that tough times are always temporary. Petroleum business for me was a necessity but this was by choice so I had to keep the faith and believe. So I wasn't surprised when I started getting some requests from friends in 2018. They wanted to know if I still imported wristwatches. With forex now accessible all I needed was to recapitalize and adjust my mark-up to revive the business (I vividly remember that my shipper Amaechi Ani gave advice about mark-up/adjustments during a debate on my wall at the onset of the recession)
I did these things and decided that I wasn't going to do the business again without an offline shop. Our people love an address! The typical Amawbia man will dismiss you with 'Nwokem inwero address'. That is to say that you can't be taken seriously since you have no physical business address.
So I rented a small shop in Enugu. It opened to the public in January and we are pushing forward with patronage and encouragement from friends and family to whom we will eternally remain grateful….
___________________________________________________________________
Now for a little encouragement.
In 2016 the forex crisis was at its worst. I recollect that sometime in that year I was in transit at Amsterdam Schipol, after some duty-free shopping I attempted to pay with my GTB card and it was declined for a bill of less than €80 because adding that to my previous spending had exceeded my monthly allowance of $100
A few days ago precisely on 11th March 2019, I transited through the same airport and paid for a shopping bill of over €320 with the same card seamlessly. Of course, I was aware that the monthly limit had long been increased to $1,000 since 2017
The same authorities that announced the recession also announced that the economy has bounced back to recovery yet the same people who danced at the former news quarrel with the latter.
Well, it still doesn't change the fact that the Nigerian economy is recovering. Let me advise you. There is little chance that you will see the positives in a given situation if you keep groaning and complaining. Smart Nigerians are those who see the opportunities in adversity.
For instance, if your area suffers from incessant power cuts rather than complaining all the time why not try selling ice blocks even as you complain? You are not likely to sell ice blocks for more than a year or two before another idea of expansion pops up. Cold room, rentals or events management. And in a few more years you can sit back and reflect on what could have been.
It only takes a step, a decision, a day, or a minute to start. But most importantly you have to start!