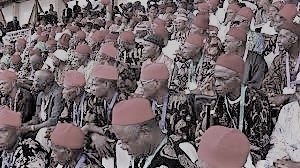 "It is the opinion of many great authorities that every nation or people build its future on its past, that is, a past that has been properly studied and understood, and whose seminal experience has been extracted and redeployed for further use". ~ Prof. Adiele Afigbo
I referred to the above excerpt from the erudite Igbo historian in a previous article where I appealed for Ndigbo to sort out their priorities in 2017. Several years on, we seem to be stuck at the same spot. I say this because my recent posts to inspirit the somewhat prosaic mobilization for a president of Igbo extraction have often been met with derision by fellow Igbos. Do I blame them? Definitely not. Given the type of politics we have played in the past five years it is fiddly for anyone conversant with Nigerian politics to be sanguine about the chances of Ndigbo producing the next president.
It has been said in the past that the Igbos' political Achille's heel is their inability to speak in one united voice. How be it then that on the last two elections when we did just that and gave over 80% of our votes to the PDP we lost out? Could it be traceable to the fact that this support was driven by more scorn for the opponent rather than confidence in the record of our chosen candidate?
If the South-East loses again in 2023 it will be the third successive time the Igbos have lost out at the centre. It has never happened before. Not even twice. Can we afford to remain in opposition much longer?
Let us quickly peruse the recent Igbo political sojourn before I delve into the meat of my essay.
In 2015, brimming in the confidence instilled by her sons and daughters serving in the Jonathan administration, Ohaneze Ndigbo ignored Buhari's request for a meeting during the presidential campaigns of that year. They did not even acknowledge receipt of the letter but rather became the first socio-cultural group of note to endorse the incumbent.
Predictably, Ohaneze and Igbos lost with Jonathan's defeat.
With a bruised ego and unwilling to move on, a huge population of Igbos queued behind Nnamdi Kanu and started threatening the entire nation with secession or doom. For two years, the Igbo political leadership, the intelligentsia and the Igbo populace were in disarray, torn between Biafra and restructuring as IPOB disrupted and dominated the political space. It wasn't until Kanu's vacuous threat to behead the president met the reptilian dance of the Nigerian military that some semblance of sanity returned.
In 2019, Ohaneze Ndigbo publicly endorsed Atiku and followed it up with Emeka Attamah's press statement adducing competence among other reasons as the thrust behind their resolution.
Again, Igbos lost with the Waziri of Adamawa. I recollect that Ohaneze not only defended the decision to back Atiku in a post-election interview granted by the same Attamah but also impetuously asserted that the South East does not expect anything good from Buhari.
Today, the same group is fighting Mamman Daura for proposing what they cited in Atiku's endorsement just a little over a year ago. It is funny but unfunny that the apex Igbo group chose to give Daura underserved attention in a contradictory manner. Of what political value is Daura by the way? How much weight did he pull before this administration? Perceivably, some Igbo leaders may believe that being the president's nephew, qualifies his statement as the Biblical "voice of Jacob". And given the excessive publicity and unwarranted explanation from the presidency one cannot really blame them. But I believe that Daura's position on zoning is simply what it is; His personal opinion.
Nevertheless, that is not to say that Mamman Daura is an outlier among the ruling elite, but we shouldn't ascribe plenteous political worth where it doesn't belong. He does not speak for the North, the North West, or the Presidency for that matter. And even if he does, this country has long moved beyond that era when a group or region can impose a leader on 200 million people. Nobody better instantiates this golden fact than Buhari himself who tried thrice and failed as many times with his massive northern support.
As if the undue relevance given to Daura wasn't enough, Okwesilieze Nwodo, added to the furore by amplifying IPOB's secession threat in a Vanguard interview where he concluded that; "In the spirit of fairness and equity, Nigeria should give the presidency to the south-east in 2023, otherwise, we will join him and fight for Biafra."
This is rather regrettable. Partisan politics is not militancy. It is disingenuous to threaten the nation with Biafra at a time when others are jostling for leadership positions in the political parties. The younger Nwodo should know by now that many Nigerians have come to regard the frivolous threats as comical. Yet they are willing to latch onto that to oppose the emergence of an Igbo as the president. I mean let's be politically realistic, few people will support a potential secessionist to become the president.
So what exactly do Igbos want? Is it restructuring, Biafra, or the Presidency? I believe we have to consider the wise words of Prof Afigbo in making this decision.
Firstly, the chant for restructuring by any region or tribe is often rooted in claims of marginalization. But in Nigerian politics, this is as anachronistic as it is futile because it is also directly proportional to the distance between 'our own' and Aso Villa. Moreover, Nigeria has been restructuring since independence, perhaps not in the manner envisaged by some because different groups have varying interpretations of restructuring.
On Biafra, I am under no illusion about its practicability. And given that the protagonists are men of questionable character I have little doubt that the hubbub will evaporate as the rumoured IPOB metamorphosis crystallizes further.
We are left with the presidency. Before you argue that Igbos do not need the presidency to make progress, that we only need is a restructured and equitable nation to excel please just know that I totally concur. But let us also agree that Igbos have invested greatly in this country through sweat and blood. We are one leg of the tripartite pillars of Nigeria found in every nook and cranny where our renowned enterprise burgeons the economy of even the smallest enclave. I dare say that having travelled the world, the Igbo face is easily the Nigerian face. It is therefore quite psychologically distressing for me and many Igbos that no Igbo person has led the country since Aguiyi Ironsi.
It is equally pertinent to state here that Nigeria is a work in progress and neither restructuring, Biafra or Igbo presidency will solve all Igbo problems let alone the litany of woes bedevilling the country. However, it can only be fair and just for Igbos to produce the president after all these years.
Igbos now need to take this stand, prioritize and work towards achieving it. The South-East cannot continue releasing discordant signals at the turn of every election. If we consider that the North East which has also not produced a president since 1966 is currently the hotbed of a deadly insurgency while the South East is the safest region in the country, then we have every reason to be hopeful.
I believe that Ohaneze should channel more of her energy towards achieving this target. Igbo political leaders, especially of the PDP where Igbos have anchored their faith in the last two decades should rise to the challenge. They can start by tackling Wike who invariably shot down the prospect of zoning by saying that the party will prioritize winning.
But this is not to say that Igbos should extrapolate the needless alienation in the APC. Political parties are the vehicles for attaining power in a democracy and the Igbo nation is too big to nest her eggs in one party. We have worthy Igbo men and women capable of leading the nation in the leading parties. Its time to commence the negotiations and alliances needed to propagate this objective.
A president from the South-East will deliver the much-needed embrocation to heal not just the region but the entire country. It will not be delivered on a platter. A lot of politicking is required and Igbos more than any other need to understand that it is a marathon and not a sprint. But first, we have to make that choice.