Chimamanda Ngozi Adichie (b. September 1977) is one of the most notable writers of African descent. A writer of fiction, nonfiction, poetry, as well as a human rights activist and acclaimed feminist, Adichie has published six books, including Purple Hibiscus, Americanah, We Should All Be Feminists, and her most recent Notes on Grief, a book length essay on the many layers of grief, which she wrote after the passing of her parents. Adichie's works as a writer and feminist has received several notable acclamations including the Commonwealth Writers' Prize for Best First Book, an O. Henry prize in 2003, the 2007 Orange Prize for Fiction and the Anisfield-Wolf Book Award, both for her novel The Half of A Yellow Sun, which is also in motion picture. In 2017, Adichie was elected into the 237th class of the American Academy of Arts and Sciences, one of the highest honours for intellectuals in the United States. She has also received several honorary awards from several institutions. In 2013, part of her work was sampled by Beyonce in her song Flawless, this gained so much traction.
Adichie is a well accomplished author at her age. And to celebrate women's history month, we've put together some of her famous and intriguing quotes about women's rights, gender expectations, and human rights. Most of these quotes are from her book Dear Ijeawele, which she wrote as a letter to her friend with suggestions on how to raise her girl child.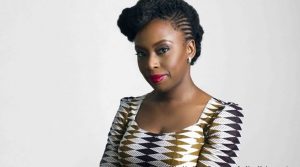 1. "We should all be angry. Anger has a long history of bringing about positive change."
2. "My own definition is a feminist is a man or a woman who says, 'yes, there's a problem with gender as it is today and we must fix it, we must do better.'"
3. "Marriage can be a source of joy and love and mutual support but why do we teach girls to aspire to marriage and we don't teach boys the same?"
4. "Of course, I am not worried about intimidating men. The type of man who will be intimidated by me is exactly the type of man I have no interest in."
5. "Never ever accept 'because you are a woman' as a reason for doing or not doing anything."
6. "Never speak of marriage as an achievement."
7. "I am trying to unlearn many lessons of gender I internalized while growing up. But I sometimes still feel vulnerable in the face of gender expectations."
8. "Women need to know that they matter. They matter equally."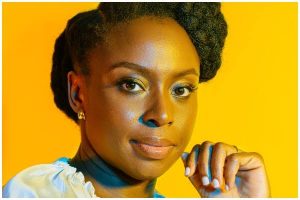 9. "The problem with gender is that it prescribes how we should be rather than recognizing how we are."
10. "Imagine how much happier we would be, how much freer to be our true individual selves, if we didn't have the weight of gender expectations."
11. "And I want to be respected in all of my femaleness because I deserve to be."
12. "Feminist: a person who believes in the social, political and economic equality of the sexes."
13. "We must raise our daughters differently. We must also raise our sons differently."
14. "I find that I'm lonely in my rage about sexism. And that loneliness informs my rage."
15. "It's not about individual women; it's about a system."
16. "I don't want to sit with someone who thinks that women are objects. I just don't want to."
17. "I know I'm able to have empathy for men who have been assaulted, who've suffered. I don't need to imagine that they're my brother or my husband."
18. "Feminism and femininity are not mutually exclusive."
19. "I've always been the kind of person who thinks that men and women are equal, full stop."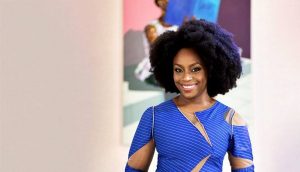 20. "Feminism for me is not an exclusive little party that you get to go to when you've read the right books."
21. "Masculinity is a hard, small cage, and we put boys inside this cage."
22. "Some people ask: 'Why the word feminist? Why not just say you are a believer in human rights, or something like that?' Because that would be… a way of pretending that it was not women who have, for centuries, been excluded. It would be a way of denying that the problem of gender targets women."
23. "She refused, protested, spoke up when she felt she was being deprived of land and access because she was female."
24. "We teach girls shame. 'Close your legs. Cover yourself.' We make them feel as though being born female they're already guilty of something."
25. "For me, feminism is a movement for which the end goal is to make itself no longer needed."
There are a plethora of other quotes by the renowned feminist author, you can look them up online. We hope this inspires everyone to treat women right in our society. Here, we will always pursue the rights of women.
Happy end of the month!