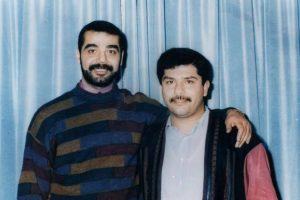 On this day: in history (2003), Uday Hussein was killed alongside Qusay Hussein and his nephew Mustafa, by an American task force (United States-led invasion of Iraq in 2003 ) after a prolonged gunfight in Mosul.
Uday was the eldest child of Saddam Hussein with his first wife. He was seen as the likely successor to his father, but lost the place as heir apparent to his younger brother, Qusay Hussein, due to injuries in an assassination attempt.
Uday was reportedly erratically ruthless and intimidating to perceived adversaries as well as to close friends. Witness allegations have suggested he was guilty of rape, murder, and torture, including the arrest and torture of Iraqi Olympic athletes and members of the national football team whenever they lost a match.
Uday fell out of favour with his father. In October 1988, at a party in honour of Suzanne Mubarak, wife of Egyptian President Hosni Mubarak, when he murdered his father's personal valet and food taster, Kamel Hana Gegeo, possibly at the request of his mother. Before an assemblage of horrified guests, an intoxicated Uday bludgeoned Gegeo and repeatedly stabbed him with an electric carving knife. Gegeo had recently introduced Saddam to a younger woman, Samira Shahbandar, who had become Saddam's second wife in 1986. Uday considered his father's relationship with Shahbandar an insult to his mother. Shahbandar's oldest son fled to Jordan because of the harassment by Uday after the marriage. He also may have feared losing succession to Gegeo, whose loyalty to Saddam Hussein was unquestioned.
As punishment for the murder, Saddam briefly imprisoned Uday and sent him to Switzerland as the assistant to the Iraqi ambassador there. He was expelled by the Swiss government in 1990, after he was repeatedly arrested for fighting. Uday's vast car collections were destroyed by his father after the Kamel Hana Gegeo incident.
On October 6, 2004, the head of the Iraq Survey Group (ISG), Charles Duelfer, announced that the group found no evidence that Iraq under Saddam Hussein had produced and stockpiled any weapons of mass destruction since 1991.
#myhistorydiary #history #iraq #america #nigeria #war
Created by Okey Obiabunmo