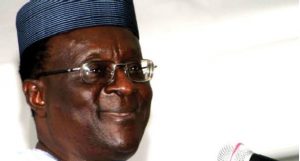 On this day: in history (2009), Gani Fawehinmi died after a prolonged battle with lung cancer, and was buried on 15 September 2009. He was 71 years old. Gani Fawehinmi died disappointed in the state of Nigeria at the time of his death.
Chief Abdul-Ganiyu "Gani" Oyesola Fawehinmi, GCON, SAN, was Nigerian human rights lawyer and devoted his life to fighting for the rights of the Nigerian people; as a tireless advocate for justice, he made many enemies among Nigeria's military and civilian regimes. He was the son of a prosperous family, but his father's death while Fawehinmi was studying law at the University of London made it necessary for him to work in order to finance the remainder of his education. He began practicing law in Lagos in 1965 and quickly became known as "the people's lawyer."
Gani gained prominence in 1969 when he took on the case of a factory worker, Bala Abashe who alleged that he saw Secretary to the Government of Benue-Plateau State, Andrew Obeya having sex with his wife in his car in a bush. Abashe then sued Obeya for assault and damages for adultery. He took on the case as a pro bono lawyer for Abashe while the state government stood behind their official. Efforts were made for Fawehinmi to drop the case, when that failed, Obeya was forced to resign. However, Fawehinmi was detained for nine months. The publicity of the case improved the exposure of his law practice.
Gani took on the case of the mysterious killing in 1986 of a newspaper editor (for which Fawehinmi blamed the military junta in power at that time), and often represented those who could not afford to pay for his services. Fawehinmi's activism extended to philanthropy, including the granting of scholarships to impoverished Nigerian youths. He also published several books and founded in 1985 the Nigerian Weekly Law Reports. Fawehinmi was awarded the Bruno Kreisky Prize in 1993, honouring his work in advancing human rights. In 2001 he was made a senior advocate of Nigeria, the country's highest title in the legal profession.
#myhistorydiary #history #law #nigeria
Created by Okey Obiabunmo