I open my eyes slowly and sit up in bed. The rays of the sun are already streaming into the thatched hut. It is a big hut; one of the few luxuries Ikemefuna had left me before his passage to the great beyond.  It had been a cold night. It is expected because we are already in the core of the rainy season – a season our colonial masters fear the most because it comes with an increase of vectors and eventually, the spread of diseases which their European DNA is not accustomed to. Why not just give us independence and go back to your home, anyway?
I look down at Nkechi and Chidifu still sprawled on the mattress and chuckle at the sight that meets my eyes. Nkechi has her legs a little distance from Chidifu's mouth which is open allowing the undisturbed trail of saliva flowing down to his arm. Nkechi obviously took from me. I had always been a bad sleeper. I can still remember  mama waking me up at night, shouting "Odiegwu!" and telling me to adjust myself. As for Chidifu, he, no doubt, took from his father. I chuckle at the thought of Ikemefuna running on legs as little as Chidifu's and drooling saliva from his mouth when he slept. Oh! How I miss him.
I don't plan on cleaning the drool off Chidifu's mouth. I would tease him with it a little when he awakes.
I adjust Nkechi's legs and get up from the mattress – it has already become threadbare. I should get a new one soon but I plan on leaving this village with Chidifu and Nkechi and settle in Aba. Yes, I had talked about it with brother Okoro when I had gone to visit him there two years ago – shortly after the death of Di'm. It was the first time I had travelled out of Mmu-Mmenyi, my village in Bende LGA of Abia state. Brother Okoro is my elder brother and most favourite in the family. It has been this way since childhood and sometimes, the memories of our escapades when we were much younger makes me smile. Brother Okoro works as a clerk in the Post Office in Aba. This makes communications between us easy because he gets my letters as soon as they arrive and there isn't any delay in receiving his letters too. The last time I was there, he had told me of his plans to get boats and canoes with his savings. He would employ the services of good boat men that would convey people through the Azumini Blue River and report to him with the profits. His letters over the last two years had made reference to this and he was making good progress. Thanks are to Chukwu.
I hope to make such good progress too. I just cannot continue to bear the difficulty that has continued to buffet me here in Mmu-mmenyi. If only Ikemefuna were to be here. Well, I had resigned to my fate a long time ago for the sake of our children. I do know that it will be a difficult journey – it has been a difficult journey – and the thoughts of what awaits chills me to my bones but then, I have no other option. Giving up really isn't an option. Sometimes, I simply cry myself to sleep because it gets so tough and I get so lonely without Di'm, my husband. However, I get an upwelling of strength after crying and I do move on.
Brother Okoro does help too. He has been kind enough to send some money once in a while but I try not to burden him. He has his family to cater for and mama too depends on him. Besides, he is still trying to establish himself. I should think of doing same in whatever way I can.
I walk to the door and push the lock out of its position. Little quantity of sand falls off as I do this – an indication of termites. The insects must have found that my door post has become weak due to the incessant rain. I make a mental note to sprinkle some tinder mixed with charcoal on the door post later on.
It is bright outside. I can see smoke rising into the sky over the mud fence from Ekwefi's kitchen. She is always up early. Unlike mine, Ekwefi's husband is still very much alive; Hale and hearty. He is a good hunter and manages a big yam farm. Ogbonna is quite handsome and sometimes, Ekwefi tells me of the adventure they have in the bedroom when all is dark. She giggles shyly when she talks about Ogbonna's prowess in bed.
"O siri ike dika igwe! It is long and strong like iron. It sometimes touches my heart." She would say, referring to Ogbonna's manhood and then, burst into raucous laughter as she gesticulated.
At times, I get jealous but most of the time, I enjoy the gist and later feel slippery in between my thighs. You cannot blame me; my libido did not cease to exist when Ikemefuna died.
The truth is that I have had several advances from men in Mmu-Mmenyi. Even Thomas Milliard, a white official that handles the affairs here in Mmu-Mmenyi has intercepted me severally on my way home from the market. He is white and handsome with brown beards but on days when the sun gets too hot, Captain Thomas's face becomes red like ripe palm fruits and I don't find this attractive in any way. Indeed, having the captain ask me for an affair is considered by others as a good opportunity and I see how genuine he is, but I can't see myself being with another man except Ikemefuna. Not to talk of a white man, a district officer for that matter.
"Ekwefi, are you up?" I shout in the direction of her compound.
"Nwanneoma! Yes, I am cooking."
Her voice still has the excitement it had when she was brought here to be Ogbonna's wife. Ekwefi is always happy and laughing. Sometimes, I wish I could be like her. It has been even more difficult being happy in the last two years. As such, Ekwefi's countenance is actually a very welcome sight everytime.
"Be careful not to over feed Mazi Ogbonna until he decides not to go to work." I say and laugh.
I can hear her laughter, a faint cackle in the distance and then, the voice of Ogbonna clear, deep and penetrating.
"Who are those women gossiping about me this morning?" His smiling face peeps over the fence. "Oh! Is it you, Obiageli? Kedu?"
I smile. "I am fine".
"How are the children?"
"They are still asleep. How is Ikenna?"
"Ikenna made rain fall through the roof on me last night. I shall cane him when I return. I'm late for a meeting with the district officer."
I laugh at the choice of words he preferred using over 'bedwetting'. "Take it easy with him".
He laughs, turns and leaves.
"Nwanneoma, do you care for some Abacha", Ekwefi's voice comes again as I walk towards my kitchen "I have made excess here".
I know that Ekwefi is very much aware of my difficulties and that she assists without trying to make it obvious that I need help or that she is offering help and I am grateful for this.
"Yes, I would love some", I say to her.
"I shall bring it over to you when I am done so that we eat together."
"Okay, Ekwefi. Let me prepare something for the children."
I arrive at the kitchen and open the door. I really do not have an idea of what I would cook but I figured that anything would do just for Chidifu and Nkechi this morning.
I plan to go to the market for some foodstuffs later today. I have to be miserly with the money I have been able to save up so that there will be enough left for the relocation to Aba. I would go to the farm and see what I could harvest. It has been a struggle with Ikemefuna's family for that piece of land and the only way I had been able to win was because I had born a son for Ikemefuna before his death. However, I couldn't bear the toxic behaviour of his Umunna and it happens to be one of the reasons I plan on relocating.
I'll make known my intention of relocating to Aba to Ekwefi when she comes. I think she has to know.
As I prepare the food, Nkechi walks into the kitchen. Her eyes are bright and her nose moves sharply. Nkechi has always been a lover of food.
"Where is your brother?" I ask her.
"He is inside. I asked him to wash his face."
Unfortunately, I have lost the chance to tease Chidifu as I had initially planned to all thanks to his sister.
"Go and call him to come and take his food. Yours is the one on the bamboo."
I would tell them too about Aba; about the big market, the huge population and the blue river there. I would tell them that there is much opportunity for us in Aba and we could live better than we currently are here.
Of course, they would welcome the news. I can already imagine Chidifu running about in the streets of Aba. It is our chance.
I lock the kitchen and go out to wait for Ekwefi. It is a new beginning.
About the Writer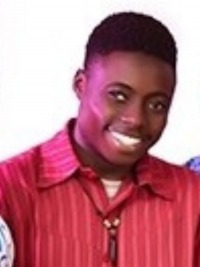 Emmanuel wrote in via enakuemmanuel@gmail.com