On this day: in history (1992), a Nigerian Air Force C-130 Hercules transport plane carrying top military officers crashed in Ejigbo near Lagos, minutes after leaving Lagos airport. All passengers died in the crash, 173 bodies were found, 27 missing.
The Aircraft had 110 passengers' capacity without luggage, that is if there are complete 110 passengers, there should be no luggage. But it was alleged that the aircraft carried about 167 passengers with their luggage. They were 15 persons in the cockpit that was meant for 11, including the pilot and his co-pilot. Some of the passengers in that aircraft were alleged to be standing while others 'lapped' themselves.
The plane was reported to have left at about 5:27 p.m and under two minutes while the aircraft was at about 3,100-3,500 feet above sea level, one out of the four engines, in fact the one engine regarded as the very best, which ironically was the one recently repaired got packed up and immediately it was reported that the pilot sent in a distress message to the control tower, "We are in trouble".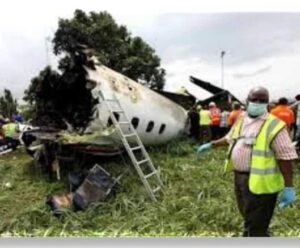 The pilot made an impressive move to return to the airport but it was too late and by the time he sighted the Okota/Oke Afa canal, he headed for it, so that he could land with its belly on the water, but he missed it just by 100-150 meters and nose-dived into the swampy area of the lagoon, this was in his effort to at least reduce the causality rate.
#myhistorydiary #history #plane #nigeria #military #disaster
Created by Okey Obiabunmo