On this day 1989: Chinese troops stormed Tiananmen Square in Beijing, killing and arresting thousands of pro-democracy protesters in what will become known as the Tiananmen Square Massacre.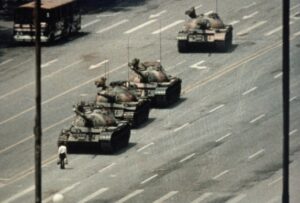 On April 27, an estimated 50,000 to 200,000 people mostly coordinated from Peking University Campus started a march to protest for greater freedom calling for the resignation of Chinese Communist Party leaders deemed too autocratic.
For several weeks they kept vigils, sang, and marched through around Tiananmen Square while a large number also went on hunger strikes. Anxiety grew within the government when nurses, doctors, and families joined the protests, and numbers grew.
After several warnings from the government, the military was deployed to the streets. Yet their presence failed to quell the protests. And about l 1 a.m. on June 4th, soldiers and police stormed Tiananmen Square, firing live rounds into the crowd killing over 200 people while unofficial figures are above 1000.
The massacre is remembered around the globe by what is considered the most iconic image of all time showing an unidentified man (nicknamed the Tankman) standing alone in front of a column of armoured tanks.