On this day 1968: U.S. presidential candidate Robert F. Kennedy was fatally shot by Palestinian Sirhan Sirhan at the Ambassador Hotel in Los Angeles.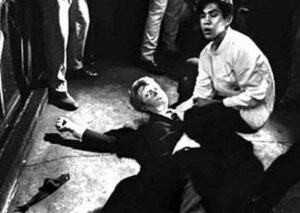 After winning the Democratic Party nomination, Kennedy spoke to his supporters at the Ambassador Hotel. As he left through the rear exit he paused to shake a dishwasher. That was when Sirhan who had a gun in a rolled-up campaign poster appeared and fired several shots at him.
Two brave athletes Grier and Johnson who accompanied Kennedy joined his staff and wrestled the assailant to the ground as more shots rang out injuring five others. Grier would later blame himself for allowing Kennedy to be shot.
Kennedy who had been hit with three shots bled on the pantry floor for 23 minutes before the medics arrived. Doctors performed emergency surgery but having lost too much blood he suffered irreversible brain damage. He was pronounced dead the next day.
On April 17, 1969 Sirhan was convicted of murder and sentenced to death. However, his sentence was commuted to life in prison after the California Supreme Court outlawed capital punishment. He is now 76 and is serving at the Donovan Correctional Facility in San Diego.