Where, when or how you start is not as important as starting. ~ Cmoni
Last time in my weekly Success Journey Series I talked about the potential obstacles that may pop up as you navigate the path to achieving set tasks. I then suggested that anticipating these hiccups beforehand is the first step of a four-pronged strategy I call the 4 A's; Anticipate, Allocate, Adapt, Act. 
But before we proceed to how we allocate resources to tackling these problems permit me to digress a little, just a little for this week. We have scheduled a Talkshop On Success Through Self Development for the 20th of March 2022, so let me hype what we are trying to do here.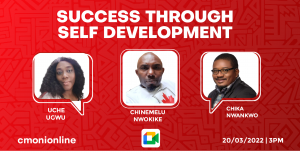 And in my usual manner, some illustrations will give us a clearer perspective.
When Apple debuted the iPhone in 2007, the then Microsoft CEO Steve Ballmer gave one of the most legendarily misjudged reactions in tech history. When asked about his thoughts on Apple's new product, he laughed at the high-priced iPhone, saying it would not appeal to consumers because it lacked a physical keyboard. Of course, he was proven wrong, and his blunder made Microsoft appear to lose ground at a time the tech innovation curve was witnessing unprecedented competition.
In that period Ms grew by about 22% while Apple's value grew by over 4800%. Of course, there's no way the most fanatical iPhone fan believes he is getting that much value more than what the average android phone offers, but the fact remains that the product or rather the company's fortune grew geometrically.
Seth Godin is a prolific blogger. In one of his podcasts, he said that he had just a couple of followers when he started blogging and less than 10 listeners for his weekly Akimbo podcast. Today, with close to 8000 blog posts, his blog is easily one of the most read in the world and records over half a million visits monthly.
These are humongous figures but they are secondary factors really. You may be wondering what could be the primary factor. Here it is;
Where, when or how you start is not as important as starting.
Yes, Steve Jobs and Seth Godin had confidence. They believed in their ability and the quality of the product they had to offer. And as they commenced natural forces lined up in various forms to support their endeavour. With diligence, determination and consistency they surely got what they rightly deserve for their efforts.
But if they hadn't started all that will amount to nothing.
The Cmonionline Talkshop is another branch of the journey we started with our 20-month-old essay competition and it will open the door for other branches to sprout. At my age, I have resolved to invest more resources in passion projects and social businesses that will impact people and the larger society. I don't even want to dream of where we will be by next year. I am thinking of 10, 20 years from now!
And it's easy to understand what we are trying to achieve which was better elucidated in a previous essay. We want to create digital groups, tribes, communities for knowledge and skill acquisition through collaboration. There is no expertise required. So if you have skills/experience to share you are welcome to reach us through our social media handles or at admin@cmonionline.com and we are happy to collaborate on this platform. Teachers and learners both learn along the line because learning is a lifelong process increasingly modelled around informal environments.
So join us on Sunday 20th March 2022 by 3 pm, we will have fun while learning. What can be better than that?