On this day in history (1934), Giorgio Armani was born. He is an Italian fashion designer. He first gained notoriety working for Cerruti and then for many others, including Allegri, Bagutta and Hilton. He formed his company, Armani, in 1975, which eventually expanded into music, sport and luxury hotels. By 2001 Armani was acclaimed as the most successful designer of Italian origin, and is credited with pioneering red-carpet fashion. In 2010, he opened the Armani Hotel in Burj Khalifa, the world's tallest building. Armani has an estimated net worth of US$9.53 billion, as of 2021.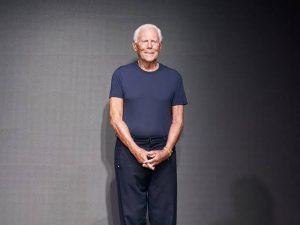 Amani is the first designer to ban models with a body mass index (BMI) under 18, after model Ana Carolina Reston starved herself to death due to anorexia nervosa.
Armani has designed many stage outfits for pop superstar Lady Gaga, including those worn on her record-breaking Monster Ball Tour and Born This Way Ball Tour. He has also designed for many high-profile award shows, such as the 52nd Grammy Awards and the 2010 MTV Video Music Awards.
#myhistorydiary #history #fashion #redcarpet #armani #nigeria
Created by Okey Obiabunmo