On This Day: 2014, Joaquin "El Chapo" Guzmán Loera, head of the Sinaloa cartel, the world's biggest drug trafficking organization, was arrested in a joint U.S.-Mexican operation in Mazatlán, Mexico, after outrunning law enforcement for more than a decade. He oversaw operations whereby mass cocaine, methamphetamine, marijuana, and heroin were produced, smuggled into, and distributed throughout the United States and Europe, the world's largest users. Forbes ranked him as one of the most powerful people in the world between 2009 and 2013.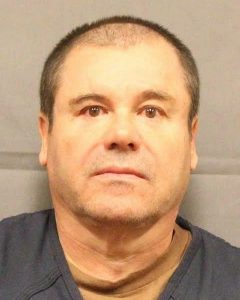 Born into poverty in 1957 in the Mexican state of Sinaloa, Guzmán dropped out of school very early and entered the drug trade through his father, helping him grow marijuana for local dealers during his early adulthood.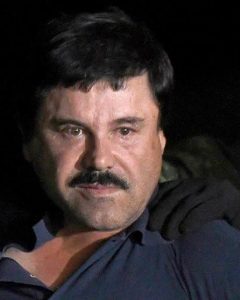 He founded his own cartel in 1988. Guzmán was first captured in 1993 in Guatemala and was extradited and sentenced to 20 years in prison in Mexico for murder and drug trafficking. Then, in January 2001, he escaped the facility. The escape allegedly cost Guzmán $2.5 million..His status as a fugitive resulted in an $8.8 million combined reward from Mexico and the U.S. for information leading to his capture, and he was arrested in Mexico in 2014.
Guzmán would not stay incarcerated for very long. On July 11, 2015, he escaped using a tunnel that led from the prison shower and disappeared within 25 minutes of last being spotted entering the bathroom by security cameras.
After a six-month manhunt, Guzmán was finally captured again in early 2016. After a lengthy court battle, he was extradited to the United States to face a 17-charge indictment. On February 12, 2019, El Chapo was found guilty on all charges. On July 17, 2019, a federal judge in New York City sentenced him to life in prison. He is currently serving a life sentence at Supermax prison in Colorado, considered escape-proof and an incubator for mental illness. El Chapo is there with some of the nation's most notorious offenders including Unabomber Ted Kaczynski, Oklahoma City bombing conspirator Terry Nichols and 1993 World Trade Center bomber Ramzi Yousef.
#myhistorydiary
#history
#prison
#mexico