On This Day: 2020 Ahmaud Marquez Arbery, a 25-year-old Black man, was shot and killed after being chased by three white men while jogging near his home on the outskirts of Brunswick, Georgia, United State. The slaying of Mr Arbery was captured in a graphic video that was widely viewed by the public. Mr Arbery was a former high school football standout and an avid jogger. At the time of his death, he was living with his mother outside the small coastal city in Southern Georgia.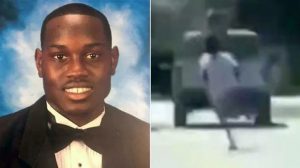 No arrests were made for more than two months after the murder by the Glynn County Police Department (GCPD). The GCPD said the Brunswick District Attorney's Office first advised them to make no arrests, then Waycross District Attorney George Barnhill twice advised the GCPD to make no arrests. The Georgia Bureau of Investigation (GBI) arrested Arbery murderers, the McMichaels on May 7 and Bryan on May 21, charging them with felony murder and other crimes.
Their trial began in November 2021, all three were convicted on November 24 of felony murder, aggravated assault, false imprisonment and criminal attempt to commit false imprisonment. Travis McMichael was further convicted of malicious murder. On January 7, 2022, Gregory and Travis McMichael were sentenced to life imprisonment with no possibility of parole plus 20 years, with Bryan sentenced to life imprisonment with the possibility of parole after 30 years. On February 22, 2022, all three men were found guilty in a federal hate crimes trial.
Former Brunswick District Attorney Jackie Johnson was indicted in September 2021 for showing favour and affection to Gregory (her former subordinate) during the investigation, and for obstructing law enforcement by directing that Travis not be arrested.
In the aftermath of the murder, Arbery's mother, Wanda Cooper-Jones, said she never doubted that the jury would find the defendants guilty, but her satisfaction was tempered with grief."As a mother, I will never heal," she said. "They gave us a small sense of victory, but we will never get victory because Ahmaud is dead."
#myhistorydiary
#history
#blacklivesmatter
#georgia
Created by Okey Obiabunmo