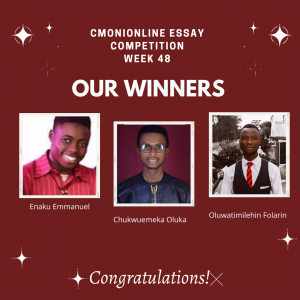 Dear readers, the winners of our #Week48 Essay and Creative Writing Competition are:
Emmanuel Enaku for his entry A New Beginning, Folarin Oluwatimilehin for his entry An Overview of Plastic Surgery in Nigeria, and Chukwuemeka Oluka for his entry Nigerian Ladies and the Rising Craze for a Banging Body
The quality of the winning essays, and all other entries in general, speaks clearly to the growth and commitment to the writers to the writing craft. We are immensely proud of this devotion and wish to sincerely congratulate each and every writer that has participated in this week's competition.
Congratulations to all!