My good people, we can all agree that 2020 has been a unique and challenging year for many, if not all of us. However, we must give glory to the Almighty in every situation especially for life, good health and the intellect we have deployed here for many weeks.
It is in this spirit that Newross & Co, an upscale boutique located at Healthgarde Plaza #450 Ogui Road Enugu has graciously decided to sponsor this Christmas message with N70,000. We will now award the 7 other published essays in week 15 the same cash prize of N10,000 each to underpin our favourite slogan "we are all winners".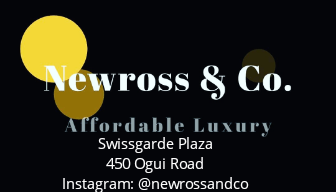 So we are now going to pay out a total sum of N90,000 to the following 9 writers.
Folarin Oluwatimilehin
Humble Ogbonna
Sunday Odu
Oladejo Victor
Arueze Chisom
Chukwuemeka Mbam
Oluwaseun Osanyinro
Udochukwu Opara and
Victor Okonjo
We wish to thank Newross & Co for ensuring that we ended this testing year on a high note. Our special thanks to everyone who has contributed in this journey, our judges, sponsors, writers, readers and followers. We have made tremendous progress with this noble cause and it can only get better. May God bless you all.
We will now take a well deserved break till the 10th of January 2021 when our #SundayPuzzle and new topics for week 16 published.
Merry Christmas and a happy new year.